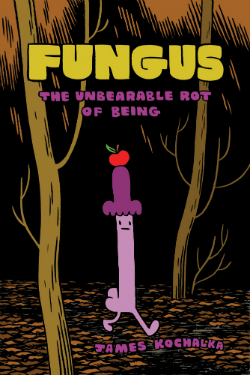 James Kochalka's American Elf was not just one of the finest diary comics we have ever had the privilege of consuming but also an acutely observed piece of social commentary on modern living. The strip may have come to an end a couple of years back but Kochalka's ability to wittily dissect the foibles of human nature remains undiminished. Fungus: The Unbearable Rot of Being may ostensibly be a collection of strips about anthropomorphic fungi in a forest-bound society but Kochalka uses these talking toadstool types to make telling points in this collection on everything from our insecurities about our social status to the complexities of interpersonal relationships.
Co-published by micropublisher Retrofit and Big Planet Comics Fungus: The Unbearable Rot of Being begins with a rather meta strip wherein two mushroom-type chums ponder briefly on the nature of the comics narrative before moving onto short tales that cover existential philosophy, religious faith and how to party with style… all with a distinctively mycological slant to them.
By far the funniest material in these pages, though, is that which pokes fun at the internet world and online interaction. 'Email' is a 12-pager that bursts the bubble of pomposity surrounding our obsessions with, and perception of, our online popularity while 'Redemption' drolly ridicules the Facebook generation in the most unlikely of scenarios as a lanky mushroom is introduced to the world of "social media" by  two clumps of moss. It's cuttingly funny stuff that will make you laugh in agreement and, at the same time, wince in embarrassment as you recognise your own shortcomings brought to life by these fungal avatars and their inadvertant lampooning of our dependency on the digital realm.
Kochalka's ever clear and accessible cartooning provides us with a cast that embody easily recognisable and very human character traits. Together with the snappy dialogue between the various denizens of this woodland world, and some quite wonderful moments of comic timing, it ensures that Fungus: The Unbearable Rot of Being is a breezy but biting read. An oddly topical and always engaging read from one of the true greats of contemporary cartooning.
Fungus: The Unbearable Rot of Being is available from Retrofit here priced $12.00.
For regular updates on all things small press follow Andy Oliver on Twitter here.