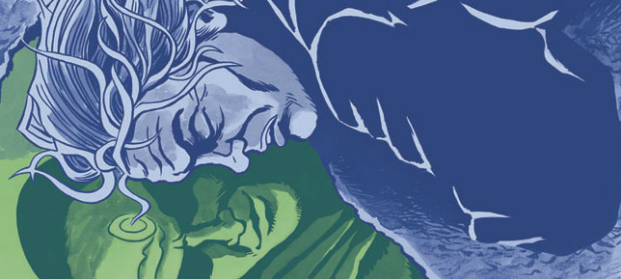 There are a number of small press serial comics that probably never quite get as much attention as they deserve in this column. The reason for that is a very straightforward one – I'm usually more interested in craft than narrative and covering every issue of an ongoing story can lead to a degree of critical repetition. Especially when the work in question is as accomplished as John Riordan and Dan Cox's Hitsville UK – a comic I constantly like to remind people I once described as "a riotous, frenzied whirlwind of a comic book".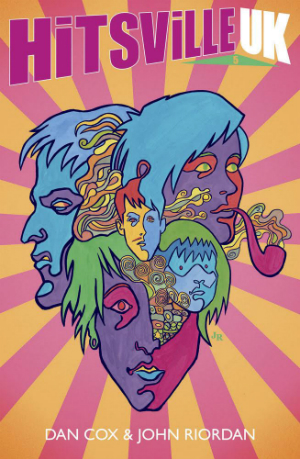 It's been a long while, then, since I last gave due attention to this magnificently oddball music industry spoof and we're catching up with the last three issues in one sitting today. To summarise what went before: Hitsville UK follows the misadventures of a sprawling cast of characters on their journeys through the recording world and centres on that titular record label staffed by worldweary owner Gerry Corden, morally dubious producer Greg Pastis and the netherworldly accountant Stan Van Horne.
Thrown into this mirthful musical mix are a whole host of the most outlandish bands and solo artists you're likely to see this side of the Eurovision Song Contest. Scooby Doo-style investigators The Carrie Nation's Revenge, Gollum-like country singer Gwillum, "Spiv Hop" performer Jack Spatz, schoolboy DJ "Haunted By Robots" and the malevolent ethereal mechanical entity who accompanies him, and many others.
Events in #3-5 focus on the continuing conflict between Corden and Pastis ("I went to the art school of hard knocks"), the struggles of Hitsville to boost their profile, the growing manipulation of the sympathetically (to the point of heartbreakingly) portrayed Gwillum, and Stan Van Horne's most malevolent machinations masquerading as marketing genius.
Elsewhere, in his dealings with the schoolyard social hierarchy, Haunted By Robots proves to be a darker incarnation of Peter Parker and there's more Beatles-inspired psychedelia for Men Behind Guitars. But it's the storylines surrounding the shadowy right-wing conspiracy that Jack Spatz has been caught up in and the Nazi band Aryan 51 that seem the most prescient here as real world concerns seem to overtake the on-page ones of Cox and Riordan's fictional reality.
The joy of settling down with three issues of Hitsville UK in one sitting is that one gets a healthy sense of plot progression all in one bonanza. The book's yearly Thought Bubble-debuting schedule means that there are just so many characters in each single issue, so many slivers of subplots and so little time to devote to each of the vast cast of players that each chapter leaves you unsatiated and eager for more. Small portions, perhaps, but tasty ones indeed.
By the time we get to the fifth issue of the book the interweaving storylines and that overarching bigger picture are beginning to become more apparent as pop parody evolves into colourful social commentary. There's (appropriately enough) a rhythm and a beat to the storytelling; a tempo enhanced by the lyrical dialogue that makes each story thread seem like an individual but interconnected track on a Hitsville UK LP.
Riordan's visuals are as animated and lively in #5 as we have come to expect from an artist whose love for the subject matter can be readily seen in his recently published book Sound and Vision. From the brutality of the opening pages (with what appears to be a Toxic Avenger homage below) to the kaleidoscopically coloured dream sequences through to his mutable panel structure it's an often surreal tour-de-force of glorious grotesques and fragmented streams of consciousness.
Hitsville UK remains a fascinating hybrid mix of cutting satire, fond send-up and topically charged allegory. All five issues are available on John Riordan's online store for those coming late to the party. You're enthusiastically encouraged to take make us of that opportunity to catch up with an essential piece of UK small press serial comics.
You can find out more about Hitsville UK from the site here and follow the comic on Twitter here, John Riordan here and Dan Cox here. Buy Hitsville UK from John Riordan's online store here. 
John Riordan is a guest artist at the next Gosh! Comics and Broken Frontier Drink and Draw on Tuesday 29th November. More details here.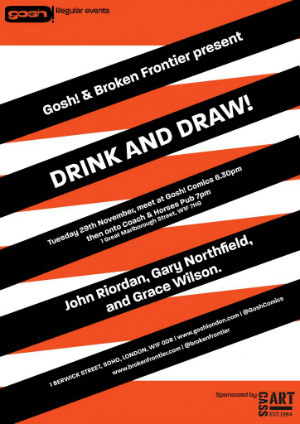 For regular updates on all things small press follow Andy Oliver on Twitter here.