Eclectic and irreverent, Paul R. Cheshire's Idle Hands Comix is nonetheless a curious humour anthology. Thoughtful subversion of the comics page sits side-by-side with the casually coarse in a book that I have to say often struggles to find an identity. Some of the material here shows the workings of a keen and incisive creative mind but that's counterpointed by a couple of strips that probably shouldn't have made the (self) editorial cut.
Possibly the strongest work in this issue is its opening story. 'Unlike' (below) is a Noirish play on social media fuelled by elements of '50s paranoia. It gives sinister life to trolls of a more tangible kind in a cutting piece of commentary on the realities of the time we devote to/waste on Facebook. Indeed, there's something effectively faux retro about a number of the offerings in Idle Hands Comix. I've read variations on 'Happy' – wherein a genie-granted wish to always be contented goes inevitably awry – before but it's a knowing take on horror/fantasy anthologies of yesteryear with some wry deadpan humour. The second 'Ecumenopolis' story in this issue also undermines the earnestness of classic sci-fi with a witty adoption of disconnected dialogue and is evocative of all those comics that sought to show us what a wacky place the future would be…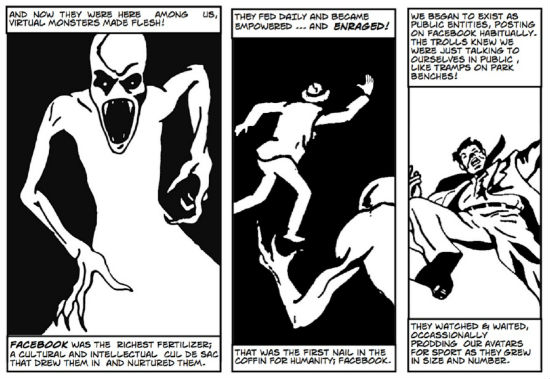 As evidenced in 'Unlike', Cheshire's work succeeds most noticeably in those strips where he has a palpable point to make. The metatextual leanings of 'Versus' (below), for example, where he uses the structure of the comics page to provide terse observations about the conventions of mainstream comics storytelling, is one of the issue's more promising exercises. Similarly, 'The Room of Long Shadows' (bottom) is another interesting example of this teasingly mischievous use of the standards of the form and, while this short does perhaps end a little abruptly, the irony of placing Frederic Wertham's "secret origin" within one of the very pulp stories he so despised is a cute touch.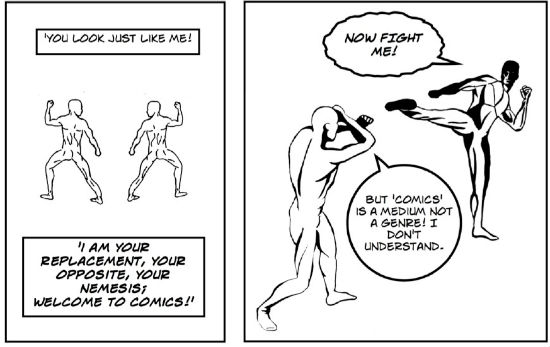 Other pieces are in the vein of long-running British adult humour comic Viz but while they certainly aspire to its levels of crudeness they never come near to reaching that now venerable publication's craftily constructed set pieces. 'Randy Seks' featuring the titular character's scrapes with his homophonic epithet tails off without a noticeable punchline. Another entry that makes a genital-based pun on fiction's most notorious vampire is just gratuitous and sits awkwardly with some of the more sophisticated work in Idle Hands. Of all of the entries in this style 'A Complicated Cowboy' is probably the best of the bunch but, as with any one-note gag strip, any overt analysis here would render the act of actually reading it pointless!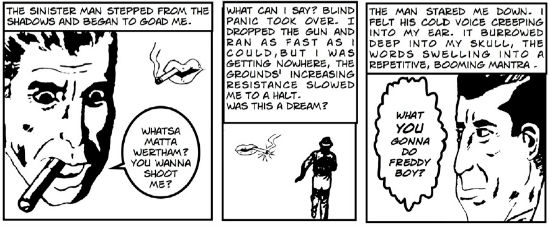 Cheshire is a capable cartoonist, perfectly able to switch his style from EC-style horror to IPC/DC Thomson humour with ease, and there is definite potential in Idle Hands Comix. However, this anthology is at its best when its creator has a solid target in his sights. I would certainly be interested in seeing more of the kind of strips on offer here where Cheshire devotes himself to satire and parody rather than the weaker, vulgar, throwaway humour that feels half-formed and derivative. At just one pound for a 24-page digital comic, though, the price of making that decision for yourself is practically negligible…
Idle Hands Comix is available digitally from Paul R. Cheshire's site here priced £1.00.