ELCAF FORTNIGHT!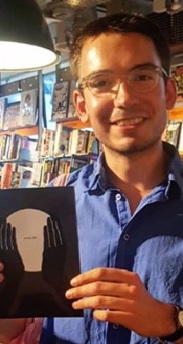 William Powers is a newer name on the small press scene in terms of coverage here at Broken Frontier. I first discovered his work last year on Small Press Day at Orbital Comics and since then we've looked at his zines like Never Been Reborn and his ongoing Space Wolf series. What particularly appeals about Powers's work is its DIY culture sensibilities and constant sense of experimentation. Today, as part of our ongoing ELCAF Fortnight coverage, we talk to him about his entry point into self-publishing, how he was inspired by Basil Wolverton and his advice for other small pressers about getting their work out there…
ANDY OLIVER: I first discovered your work at Orbital Comics at Small Press Day last year. How did you first become involved in comics self-publishing and can you tell us about your wider artistic background?
WILLIAM POWERS: When I was doing my Art Foundation course I made a humour zine with some friends called Hum. We made 5 copies using my dad's photocopier and sold them in Orbital Comics for 20p each. It was a very silly project but showed me how easy it could be to make something and then get it sold. I was always into comics but became obsessed with animation as a teenager and then studied film at university. Afterwards I kind of fled back to the solitary world of animation, which led quite easily back to illustration and comics. What I love about self-publishing is that I can create a zine, get it printed with a minimum of cost and actually see a return on that money through selling it. That kind of directness just doesn't feel possible to me with film which is why I've drifted away from it I think.
AO: Your Space Wolf series has a notably retro feel to it. What's the premise of the comic and what would you describe as its inspirations?
POWERS: I used to visit comic shops a lot when I was younger and go through boxes randomly waiting for something to catch my eye. My greatest discovery was an 80s reprint of a 1930s series called Spacehawk by Basil Wolverton and over a decade later that was the inspiration for Space Wolf. Another favourite from that period is Fletcher Hanks who created Stardust the Super Wizard. Both Stardust and Spacehawk are these heroes who don't really have a personality beyond hating crime, and the way they deal with the villains of their stories can be alarmingly brutal. Space Wolf is similarly a lone figure who just turns up to fight crime without any explanation, but I couldn't help making him a little more humane. I'd love to try and replicate just how bizarre those old comics are but I don't think I even came close.
AO: The very first of your comics we reviewed here at Broken Frontier was the zine Never Been Reborn (below). Could you describe how you used the surrealist cut-up writing technique to create that work and how the narrative was constructed? 
POWERS: Last year I went to stay with a friend in Yorkshire for a month and decided to create a zine during my stay and the cut-up technique just seemed like the most fun way to do it. I'd made a few poems using Mills & Boon books which I had really liked, and the idea of taking something 'trashy' and refiguring it is very appealing. I found a suitably cheap supernatural romance book in a charity shop and randomly chose pages to cut up. Then I just sat and made little phrases from the words, and out of those phrases grew a whole story which I then illustrated. I enjoy that kind of process because it turns it into more of a game and removes some of the ego from the writing.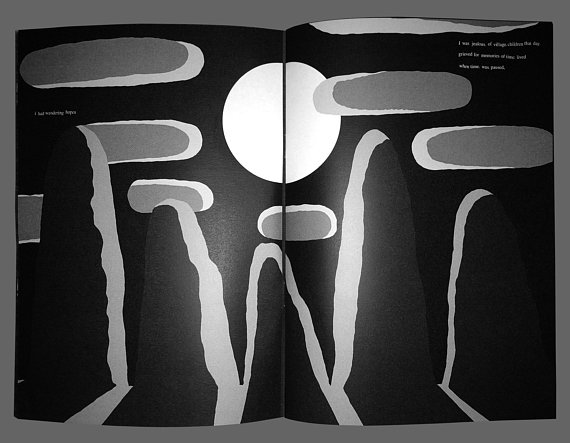 AO: Can you talk a little about your artistic process and the mediums you work in?
POWERS: I try to experiment as much as I can in my work so my process changes a lot depending on what I'm doing. I like a challenge, and sometimes I'll create my own. For example with Space Wolf I don't do any digital editing of my original artwork, so the challenge is to make it all for real on the page. I also make a lot of riso prints, and working out what will come out looking best on the machine is a fun puzzle. Sometimes the medium creates its own challenges so you don't have to!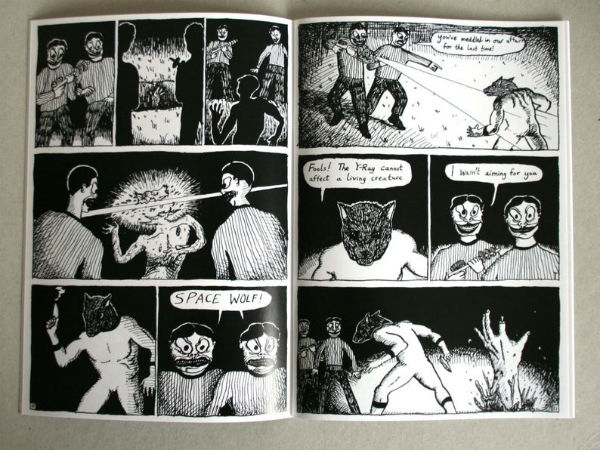 AO: What can attendees expect to see on your table at ELCAF this year? Will you have any new material on offer?
POWERS: I'll have all my usual zines, a whole lot of riso prints, and plenty of badges. I'm going to try and riso print my 'standard' badge designs and then have some unique collaged badges for sale as well. The new stuff should (fingers crossed) include a larger zine of experimental short graphic stories which I've been working on and some handmade pins. I'm slightly nervous about table space as I keep making new riso prints before I've sold through the old ones, so maybe I'll vary what I've got on the different days.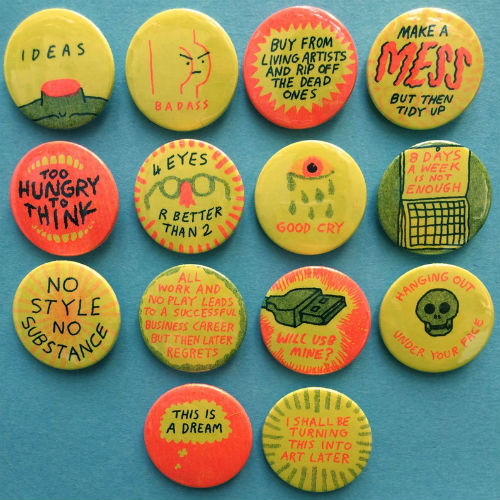 AO: As an upcoming small press creator what advice would you give those first getting into self-publishing about getting their work out there and raising the profile of their comics? 
POWERS: I remember when I finally finished making the first Space Wolf I got 10 copies printed and gave them all away to my friends. One of them asked if I was going to try and sell it and I was adamant that it wasn't good enough, I was just pleased to have actually finished it. He said he'd take it into Gosh! Comics in London and ask on my behalf and I said sure, if they agree to stock it then I'll even make an issue 2! Of course they did agree, and since then I've sold more than 200 copies of that first issue, and just finished making a third. All I needed was that person (it was my friend Joe, thanks Joe!) to push me into sharing it beyond my immediate circle. That was very fortunate for me, but I guess my advice is if you can actually get something finished and printed, which is really the hard part, then don't stop there. I only very recently plucked up the courage to start applying to zine fairs, and getting into ELCAF was honestly a shock. You should just always be reaching a little further than you think is actually possible, because you'll probably end up surprising yourself.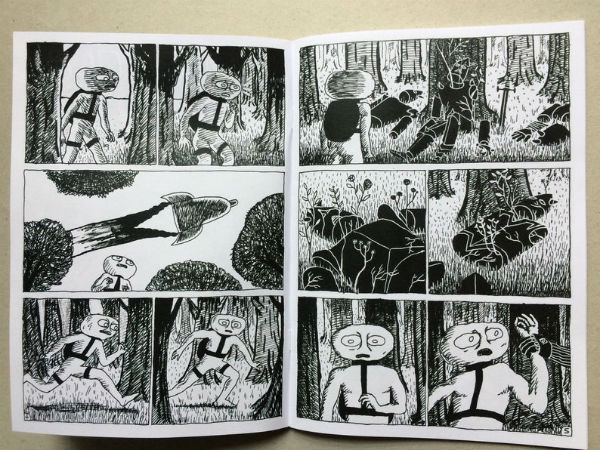 What are your plans post-ELCAF? What else can we look to see from them this year and beyond? 
I guess my long-term goal is to create longer narrative comics, and maybe even have some published by someone other than myself! But generally speaking I just want to explore different ideas and mediums as much as possible, whilst hopefully making a little money.
William Powers is exhibiting at ELCAF. For more on his work follow him on Twitter here and visit his online store here. 
For more on ELCAF 2019 visit the festival site here and follow them on Twitter here.