SAFARI FESTIVAL FORTNIGHT!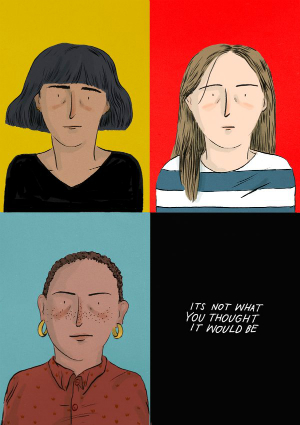 Three tales loosely connected by the interlocking existences of their protagonists – but all linked firmly in theme – make up Lizzy Stewart's A4-sized comic It's Not What You Thought It Would Be. Released earlier this year at ELCAF it marks Stewart's first comic since Dog Walk (reviewed here earlier this year at BF) and is a similarly carefully observed piece of relatable storytelling.
The comic provides vignettes in the lives of "three young-ish women living in the city" beginning with 'Night Bus', the story of Meera and her encounter with a stranger on a bus home in the early hours of New Year's Day. When Meera is pushed into a casual conversation with fellow passenger Rob, the nuisance value of having to make unwanted small talk slowly evolves into something more awkward with more disturbing ramifications to come.
Stewart's naturalistic dialogue evokes a growing sense of unease as this short unfolds; the invasive behaviour of Rob being all the more pronounced for his apparent obliviousness to its inappropriate nature. Claustrophobic and uncomfortable, the ever shifting perspectives and strong visual characterisation of 'Night Bus' also combine to ensure that what is essentially a talking heads scenario in an enclosed space retains the reader's attention throughout.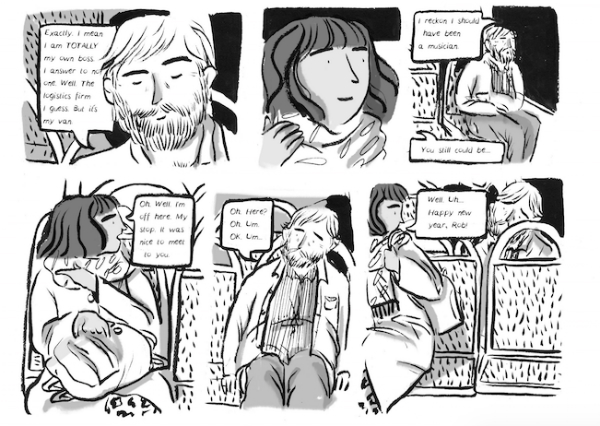 In the second entry 'Day Out' Stewart explores what it feels like to be a young woman alone in an urban landscape. It's a thoughtful character piece that follows another of her trio of characters on a supposedly carefree day off visiting a gallery, shopping and enjoying her free time. But it's one that we are invited to re-examine in hindsight and reconsider not just how she is perceived by others for her gender and age but also how those same perceptions affect her own interactions with her environment.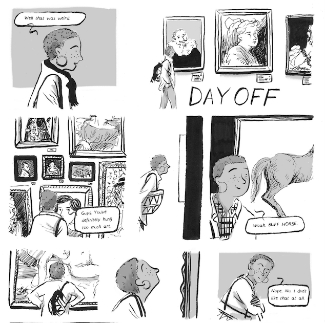 Those same thematic explorations conclude in the third story 'Long Day' wherein workplace-related sexism is casually re-enforced in the home. Whereas the first two stories are comparatively text-heavy, relying on dialogue to examine the subject matter, this final tale employs telling visual metaphor in its execution.
There's an understatement to these three stories of quietly insidious oppression and entitlement – of how women are judged and how that shapes their relationship with the world around them – that is all the more powerful and thought-provoking for its carefully observed familiarity. Lizzy Stewart is fast proving herself to be one of the most vital practitioners of slice-of-life material in current UK small press comics.  It's Not What You Thought It Would Be deserves all its post-ELCAF buzz.
You can buy It's Not What You Thought It Would Be from Lizzy Stewart's online store here priced £6.00. For more on her work visit her website here and follow her on Twitter here.
Lizzy Stewart will be exhibiting at Safari Festival on August 27th.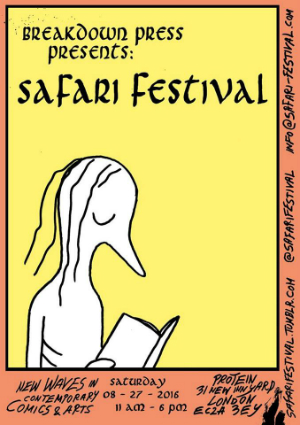 For regular updates on all things small press follow Andy Oliver on Twitter here.