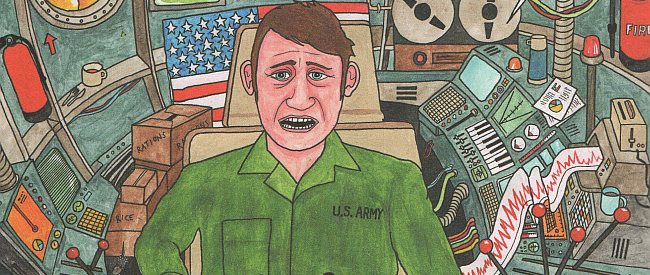 In the year or so since I reviewed Darren Cullen's scathing anti-armed forces comic/zine Join the Army the London-based artist has continued to provoke debate with his own unique brand of boundary-pushing satire. Towards the end of last year his cutting commentary on the payday loans industry gained national coverage when his Pocket Money Loans installation took over the Atom Gallery in Finsbury Park, and while comics may be just one tool in Cullen's compellingly caustic repertoire the London-based artist should most assuredly be on your radar as someone to watch in 2015.
The twenty pages that make up Below mark Cullen's longest form comic to date and, perhaps curiously, although it's replete with his usual political points it's maybe a little more subdued than the tone of some of his previous offerings. The book follows the journey of Lieutenant Frank Glass, the commander of mankind's first subterranean space station, as he undertakes a suicide mission to travel through the Earth to create a tunnel through the planet that will supposedly revolutionise global transport.
As the weeks turn into months and even years, Glass's claustrophobic existence within his tiny metal pod becomes ever more surreal. Baking Battenberg cakes, using up his air supply so he can blow bubbles in the lava outside his capsule window, and experimenting on arachnids from the onboard spider abbatoir may break the tedium of his existence but as he gets closer to the centre of the Earth so too does he get nearer his inevitable demise. A fate that his superiors above are totally blasé about…
Below is a comic that is gloriously ludicrous in both conception and delivery and yet, like everything to emerge from the fiercely intelligent mind of Darren Cullen, the superficial silliness is merely the colouring for a deeper message. In Frank Glass we have a blindly loyal protagonist who is the epitome of the soldier whose life is considered casually disposable by his employers.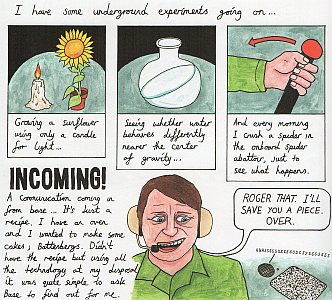 But there's another, bleaker, layer to Below that underlines the pointlessness of Glass's fatalistic subservience to those who send him to his doom and the utter insignificance of the human experience when set against the backdrop of the magnitude of the power of a planet. That's never better portrayed than in Below's perspective-forming two-page centrespread.
With its juxtaposition of the incongruous, the bizarre and the tragic, and its adoption of an almost slapstick nihilism, Below is a darkly witty mix of self-indulgent absurdity and poignant futility. Keep an eye out for Darren Cullen because whether it's via the comics page or another artistic medium I suspect you will be hearing a lot more from, and about, this unique creator in the months to come…
For more on Darren Cullen's work check out his website here. Below is available from his online store here priced £4.00.
For regular updates on all things small press follow Andy Oliver on Twitter here.