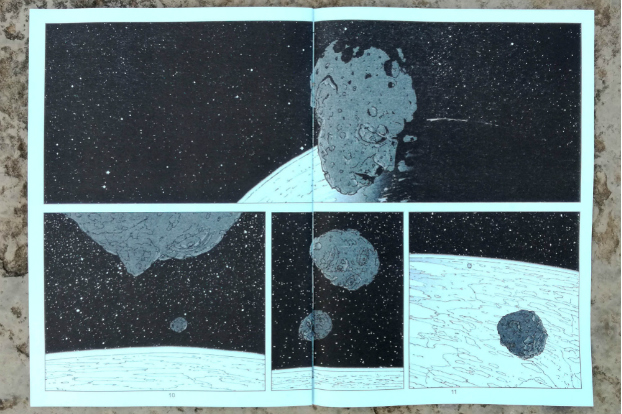 ELCAF WEEK!
Although I covered the last issue of the Decadence anthology here at BF last summer it's been a couple of years since I last took a look at the solo work of Decadence's co-founding artist Lando back when Breakdown Press collected some of his most notable comics in the excellent and handsomely produced Gardens of Glass compilation volume (reviewed here at Broken Frontier).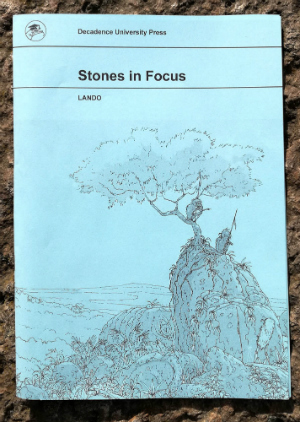 Lando's work is set in post-apocalyptic worlds where humanity's influence is no longer felt to any impactful degree and incorporates social commentary into its detailed sci-fi environments. His stories embody a resonant topicality if the reader knows where to look but, while their socio-political themes add extra layered context, Lando's tales also work on the level of standalone reflective narratives in their own right.
His latest short-form comic is entitled Stones in Focus and is described as a paper "looking into the emotions and consciousness of rock formations". It's produced in the same elegantly simple mock trade dress that has adorned some of his recent publications and traces the changing face of the planet from the perspective of communities of silent stone monoliths.
There's a dramatic irony, then, in the anthropomorphism of these stoic geological observers – who take the form of mute Easter Island-style entities – to provide some very human observations. In its twelve-page span Stones in Focus uses them as the one constant, unwavering presence through the millennia – from the formation of the planet to the first stirrings of life to the exploitation of the world's resources by humanoid society – to make an understated but profound commentary on the impermanence of civilisation in the larger scale of things.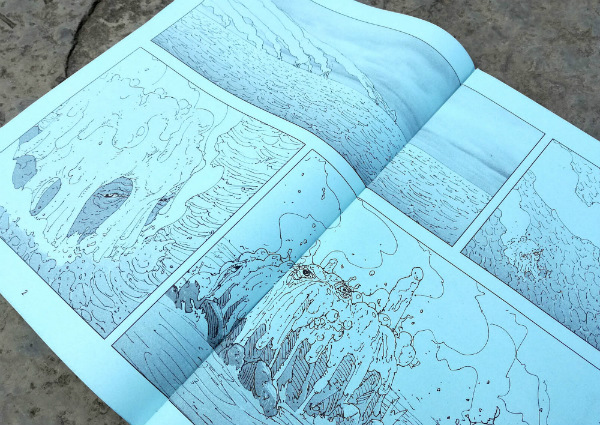 Lando's visuals are as stunningly intricate in construction as ever. His ability to so articulately communicate the themes of his work without exposition is always one of the great joys of his comics. From great sweeping cosmic scenes to the smaller but no less majestic moments of nature, every intricately designed panel is a narrative unto itself. If you're unaware of the comics of this master practitioner of the form then Stones in Focus will be a perfect entry point to his oeuvre at ELCAF this weekend. Longer-term fans, no doubt, will be need no persuading…
For more on Decadence visit their site here and follow them on Twitter here. You can buy Stones in Focus online here priced £5.00. 
Decadence will be at ELCAF this Friday-Sunday at Table 53.