Co-published by Grindstone Comics and Czap Books Ley Lines is a quarterly series of short comics. Its stated mission is to give creators the opportunity to explore "the intersection of comics and the various fields of art and culture that inspire us." Given that UK artist Simon Moreton's self-published work has been doing just that for some years (in the pages of projects like his long-running SMOO Comics and more recently Minor Leagues), his practice is a particularly good fit for this respected series.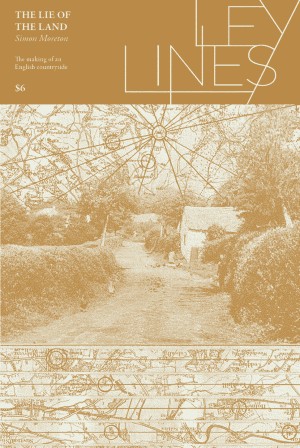 Moreton's practice has long concerned itself with our relationships with place and time, and the complex links between memory, location and the past. In this twenty-third issue of Ley Lines, titled The Lie of the Land, he takes the series' name most literally. It forms a reflection on the reality of the British countryside that takes in the ideas of Alfred Watkins (1855-1935), the photographer, antiquarian, brewer, author and archaeologist who first proposed the concept of what we now refer to as ley lines.
In 1921 Watkins had what he believed to be a moment of epiphany. As Moreton explains in his afterword, Watkins believed he observed in the Herefordshire countryside that natural features and man-made ones aligned in straight tracks. He would go on to write about his theories for this in three publications and put forward his belief that these ancient trackways or "leys" were the product of prehistoric peoples, a geographical hangover from ancient times whose presence was still felt centuries or millennia later. In more recent times, of course, they have been imbued with qualities of the supernatural, the spiritual and the mystical but Watkins' explanation was a comparatively more prosaic one.
Building on Watkins' ideas, Moreton juxtaposes old photos, found text and paintings in a collaged exploration of the intricacies of our perceived connection to our surroundings. It's a haunting journey that reminds us of how rural customs, the echoes of centuries-old traditions and forgotten rituals still leave their mark on the relative present. Weaving in and out of The Lie of the Land, a stripped-back illustrated figure acts as on-page avatar traversing the rural environments we move through, its deceptively cruder and incongruous form emphasising, perhaps, the role that the observer plays in constructing their own meaning from the outdoors. The monochromatic presentation evokes a sense of period but it also reminds us too how illusory and fabricated that is.
Through a near stream-of-consciousness array of imagery, perspective and viewpoint, Moreton asks us to consider fundamental questions about our interactions with and perceptions of the world around us. "We are a small country and we live on top of our history" he says in that afterword to The Lie of the Land. In the simple act of observing our environment, our definition of it masks the subjective in a kind of faux objectivity. We ascribe meaning and project significance onto it, ensuring that to some degree we forever shape it in our image, creating iteration upon iteration of it in a myriad of forms.
As is always the case with a Moreton offering we experience and immerse ourselves in the resonant rhythm of his pages as much as we interpret or interact with them. Taking the beliefs of Alfred Watkins, and then philosophically extrapolating them in a meditative visual poem, Moreton invites us to consider how the past informs and moulds the here and now in quiet and subtle but ever present ways. A self-contained entry point into the practice of a UK small press pioneer in The Lie of the Land is a perfect introduction to the themes and approach of Moreton's body of work.
Buy from Simon Moreton's online store here or from the Ley Lines store here
Review by Andy Oliver