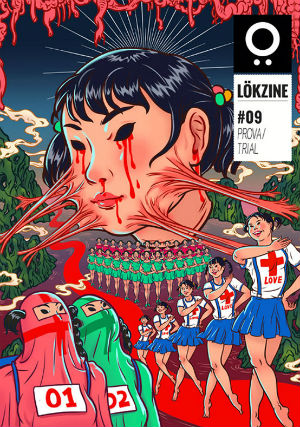 ELCAF FORTNIGHT!
Italian-based collective and anthology LÖK ZINE describes itself as "a magazine that celebrates the best in current illustration, comics and creative culture." With comic strips and illustration presented in both Italian and English, the latest issue works around the theme of 'Trial'; a theme that is suitably broad in scope and loose in interpretation herein.
Reminding me in presentation of artzines like Tiny Pencil (though without the aesthetic restrictions and with a more comics-heavy bias) this issue of LÖK ZINE (#9) does, admittedly, require a little more investment if you're on the English-speaking side of the reading divide but it's worth the time.
Translations of strips appear at the bottom of the page requiring the reader to piece together events of each frame from the accompanying detached text. But instead of being a distraction this actually forces the reader to spend more time appreciating and dwelling on each individual panel.
Within the Tony Cheung's hypnotically disturbing body horror- themed cover the first comics entry comes to us via Roberto Guerinoni in a tale of an apparently demonically possessed jar of pasta sauce that wittily descends into something all the more prosaic and domestic. While the story is perhaps slight in composition, Guerinoni plays effectively with meta-aware characters interacting cheekily with the structure of the page.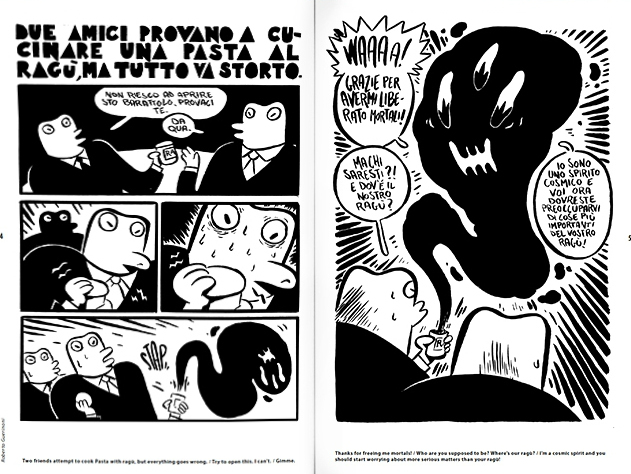 Adriana Marineo gives us an "if only" encounter set in a bar that makes excellent use of comics' unique relationship with time and panel-to-panel storytelling in a fleeting account of strangers who passed in the night. Shifting the slice-of-life and social commentary into the near future Jutea's 'Adult Life™' is a playful take on an old standard as real life and an over-reliance on the virtual converge. Lois's 'Magic Afternoon' also covers well-trodden ground with its anthropomorphic protagonists moving through a drug high-induced wonderland but there are some divertingly dreamlike moments here that are inventive and bizarre in presentation.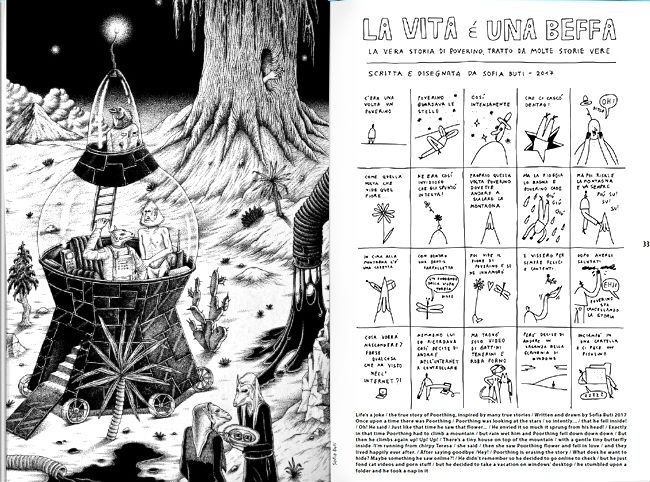 Art by Davor Gromilovic (left) and Sofia Buti (right)
Sofia Buti is the creator, though, who I came away from LÖK ZINE wanting to know much more about. The story of the hapless Poorthing is told in strict grid-like pages where the sequential aspects are often gloriously tenuous in cause and effect. It's an oddball stream-of-consciousness where, within the space of 120 panels over just five pages, Poorthing manges everything from accidentally falling into a star while staring at it to taking his vacation on the Windows desktop and having a nap in an empty folder. Seriously weird and utterly brilliant at the same time.
Humanity versus technology is also explored by Matteo Farinella whose visual style manages to evoke both the technological and the organic simultaneously (above). The final comics offering is from Alejandro Vinuela Agra whose ordered procession of perspective-shifting single images come together in a mysterious visual essay on identity.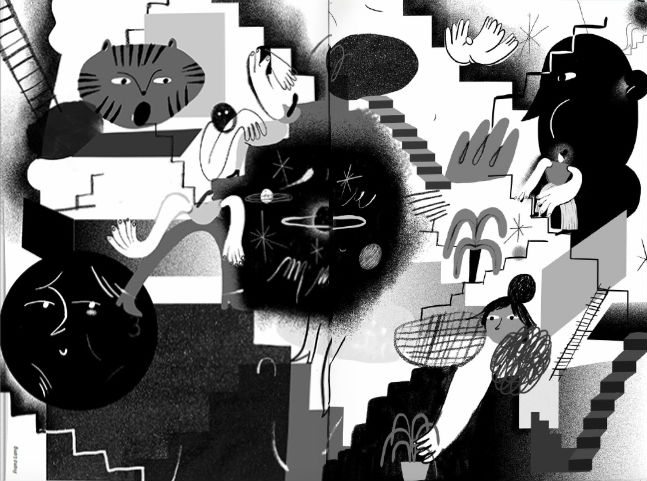 Interspersed with single illustrations like the hauntingly childlike composition by Franz Lang above, interviews and a detachable colour poster by Salvatore Giommarresi LÖK ZINE is a likeably ambitious affair. There is occasional awkwardness with English and some of the translations feel a touch stilted but I found the sense of different international comics communities coming together here to be a welcome and positive one in these difficult times. The next issue, themed 'Dimensions', recently reached its Kickstarter target, meaning there are more European artists awaiting discovery by a British artists in the pages of LÖK in the very near future.
For more on LÖK ZINE visit their site and online store here and follow them on Twitter here.
For regular updates on all things small press follow Andy Oliver on Twitter here.
Catch up on all our ELCAF Fortnight articles to date here. ELCAF runs from June 22nd-24th. Full details on the ELCAF site here and you can also follow the festival on Twitter here.