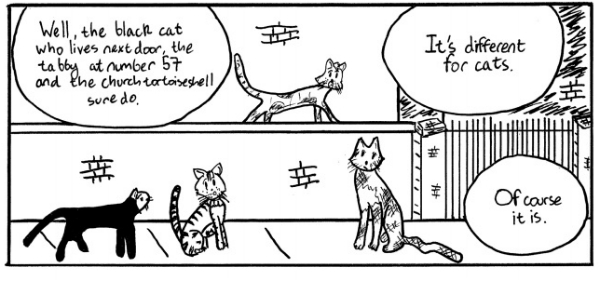 It's hard not to hum along with the thoughts of Rex Harrison's Doctor Dolittle when reading Paddy Johnston's Long Divisions. "Think of the amazing repartee/If I could walk with the animals, talk with the animals…" sang the good doctor in the eponymous 1967 film, and that basic notion of cross-species conversation is adopted by Paddy Johnston as the central theme of his first ongoing self-published comic. But, as we will see, there's nothing similarly wondrous about that faculty within these pages…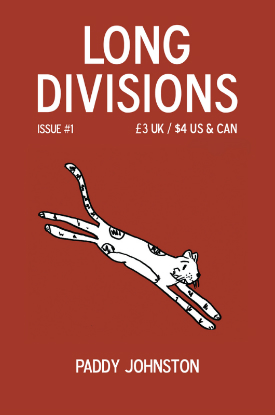 Long Divisions follows the life of Ali, a young woman with a peculiar gift. Since an early age she has been able to both understand and communicate with animals of all persuasions. While this gives her the advantage of being able to catch up on the latest feline politics with the neighbours' cat it also has its drawbacks, and a degree of suspicion and social stigma has followed her since childhood.
Understandably, nobody believes her claims of being able to chat to our furry friends, and the death of the family dog years ago left her so distressed that she was eventually institutionalised. A potential career in veterinary medicine was also abruptly scuppered as a result of her abilities. With the one friend in the world who (possibly) accepts the veracity of the situation about to move to America, Ali faces a lonely future avoiding the constant background chatter of those with four legs or wings…
Paddy Johnston's slice-of-lifer with a fantastical twist has a neat if uncomplicated premise to build on: the notion that preternatural powers would come with their own burdens and tribulations, to the degree that the bearer would become almost voluntarily isolated from their peer group. Essentially, it's a tale of someone trying to find their place in the world while at the same time dealing with a talent that is more an irritation than a positive boon.
What Johnston underlines in Long Divisions in a quietly dry and understated manner is the sheer triviality of much of what Ali's ability allows her to listen in to. It's an intriguingly different take on an admittedly well-mined core concept. Being kept awake at night by foxes discussing where the best bins in London are, for example, or making small talk with one of the local cats who has not even the vaguest grasp of many of the concepts that make up the conversational currency of the human world. There's a more serious flip side, however, with the tragic consequences of Ali's childhood naivety in regards to her unique linguistic skills continuing to cast a long shadow over both the present and her relationship with her family.
The worldweary and resignedly maudlin approach to the idea of having a "superpower" (of sorts) in Long Divisions is not without appeal and there is certainly an intriguing narrative reversal at the heart of the book that bears closer exploration.  It's less easy at this point, though, to see exactly where the narrative is taking us in the longer-term. We have a basic premise but no clear direction, and as a result this opening issue does feel a little aimless and meandering at times. There's not, as yet, enough of a hook to catch the reader and reel them into the events on the page. With a second instalment imminent, however, the author's vision for the comic going forward will hopefully become a little more established.
Johnston's visuals do have a naïve quality to them and I imagine this relative lack of sophistication will not be to every reader's tastes. Boosters of DIY culture and traditional democratic small press values – that's me for the record but if you've been reading 'Small Pressganged' for any length of time I probably don't need to underline the self-referentiality – will of course point to the importance on this front of just getting out there, making comics, and engaging an audience. Indeed, the exercise of creation for its own sake is similarly reflected in Johnston's previous self-published comic Never Trust a Spaniel which was produced as part of the #30dayscomics challenge.
Acting very much as a thematic precursor to Long Divisions – even down to being the testing ground for some of the sequences seen in the later work – Never Trust a Spaniel plays with the idea of being able to talk to animals from a different angle, giving us (at least initially) a far more humorous take on the idea. A former celebrity "Dog Whisperer" moves to the remote countryside after his career is rocked by scandal and befriends a canine refugee with a distinctly dark secret in his recent past. Again, the art is clearly less refined but there are some clever gags in the first half dozen pages and it's an interesting read as a complementary piece to Long Divisions, allowing the audience insight into Johnston's creative process and the evolution of the story ideas he carried from one project to another.
A link to Paddy's webstore is included below but those of you in London can currently pick up copies of both comics in Gosh! Comics and Orbital Comics.
For more on the work of Paddy Johnston visit his site here. You can buy copies of Long Divisions and Never Trust a Spaniel from his online store here priced £3.00 and £2.50 respectively.
For regular updates on all things small press follow Andy Oliver on Twitter here.