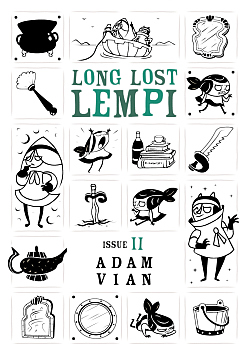 I was rather taken with Adam Vian's first issue of Long Lost Lempi when I reviewed it here at Broken Frontier last year. Delightfully whimsical, the series follows the adventures of the titular Lempi and her friends Ermin and Melisse as they journey across a fantasy world encountering mermaids, genies and other magical characters. With an all-ages appeal, carefully structured used of the form, and clear accessible storytelling, it's slightly frustrating to note that the three issues of the series that Vian has produced to date have flown largely under the radar of most small press commentators. Long Lost Lempi absolutely deserves the same level of attention that the critically acclaimed Dungeon Fun – a book with a similar target demographic – has received, though I suspect the lack of an online store for LLL has probably not helped in getting Lempi and her chums the following they're owed.
In Long Lost Lempi issue II the pals' travels lead them to a seemingly abandoned pirate ship captained by a demonic genie with a penchant for banishing people into household objects – which ends up with Ermin trapped in a mirror, Melisse imprisoned within a portrait and Lempi confined in the genie's magic lamp. With the aid of sentient cleaning tools belonging to the ship's former mistress, Lempi must discover the true fate of the vessel's real owner and free her friends from the genie's clutches. This second instalment underlines one of Vian's greatest strengths with Lempi: his fertile and offbeat imagination. Despite their mystical incarceration Ermin and Melisse finds themselves able to move around the various mirrors and pictures on board the ship allowing for some particularly witty visual gags, and there are a number of inventive twists and turns to this tightly panelled tale that are ingenious enough to bring more than a wry smile to the reader's face.
A selection of pages from Long Lost Lempi II
The third offering concerns the trio's discovery of a submarine circus and Melisse being falsely believed to be a missing member of that undersea troupe by its owner! It's that much overused – but always good value – comedy cliché of mistaken identity given a Long Lost Lempi spin. Our pint-sized heroine must locate the true performing escapee from the submerged "big top" while, in some memorably slapstick scenes of aerial incompetence, Melisse struggles to adapt to her new life as a high wire acrobat. Again, Vian's off-kilter sense of humour shines with wonderful comic timing throughout. The way he sets up story elements through what, on first reading, appear to be throwaway jokes but later become important converging plot points is sublime.
Sample pages from the third Long Lost Lempi tale
There's a sense of motion, a feeling of energy, to Long Lost Lempi that is highly engaging. It's those distinctive yet expressive character designs that provide the book with its own eccentric identity, though, and ensure the readership's affinity with these three childlike souls. One of the current UK small press scene's most under-rated comics, I would urge all 'Small Pressganged' readers to check out this charmingly chuckleworthy title.
Long Lost Lempi has been stocked by both Gosh! Comics and Orbital Comics in London. Visit Adam Vian's site here for details on obtaining copies.
For regular updates on all things small press follow Andy Oliver on Twitter here.