The main UK festival season is rapidly approaching and with it comes the usual welcome influx of launch announcements. Today we're previewing one of Avery Hill Publishing's Autumn debuts which will make its way into the world at this year's Bristol Comic and Zine Fair.
B. Mure is a longstanding member of the UK small press self-publishing community whose work has also been seen in a number of anthology efforts over the years including Performance from One Beat Zines (recently reviewed here at Broken Frontier) and Dirty Rotten Comics. They are also no stranger to the world of Avery Hill having already contributed a back-up story to Ricky Miller and Julia Scheele's Metroland series.
The full press release and preview pages from the comic are below.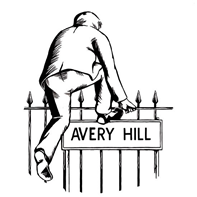 Avery Hill are proud to announce the upcoming title:
Ismyre by B. Mure 
72 pages, full colour. Release date: 7th October 2017 (Bristol Comic and Zine Fair)
In the city of Ismyre, Ed the sculptor works as his widower neighbour sings strange melodies late into the night. He places the finished figurine and notices there is an empty space on the shelf where another one should be. Perplexed, he sleeps, whilst his neighbour continues to croon. Meanwhile, across the city, a government building explodes into a mess of plants and flowers…
Exploring themes of loneliness in cities, ecology, craftsmanship and the self doubt that goes with making things; Ismyre is a quiet and fantastical mystery tale, set in an old world of ordinary magic.
B. Mure is a comic artist and illustrator from Nottinghamshire, with a love of drawing animal people, fantasy worlds and exploring the human condition.
For more on the work of B. Mure visit their site here and follow them on Twitter here. 
Visit Avery Hill Publishing's online store here and follow them on Twitter here.