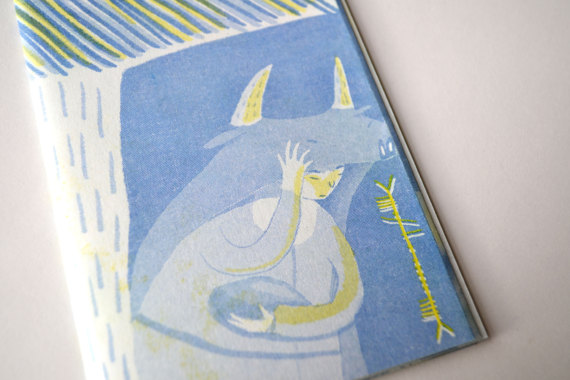 ELCAF WEEK!
For the lover of the unique properties and storytelling possibilities of the physical object there are few comics festivals more filled with opportunities to immerse oneself in the tactile reading experience than ELCAF. From diverse printing techniques to ever inventive modes of presentation this is an event that never ceases in underlining that there are some things the digital world can never replicate.
Mhairi Braden's Samhain is an 8-page comics zine that embraces that aesthetic in carefully constructed risographed beauty. It's essentially a thoughtfully crafted minicomic with each page equating to a panel of a short but memorable narrative. Taking place in the Iron Age it focuses on a group of ancient worshippers and their ritual celebration of the Celtic festival of Samhain which takes on an ethereal and almost otherworldly quality as the tale progresses.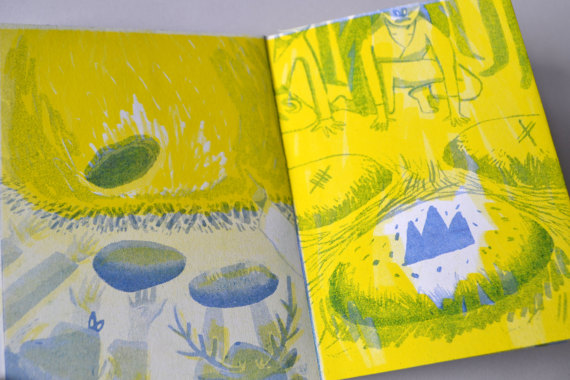 Braden's visuals have a dreamlike and folkloric style that is in direct contrast to the darker overtones of the short tale on offer here, making it all the more disquieting as the reality of events slowly begins to reveal themselves to the reader. Her pacing is exquisite, with the reader's eye being invited to linger on differing perspectives as the build-up to the zine's dramatic denouement.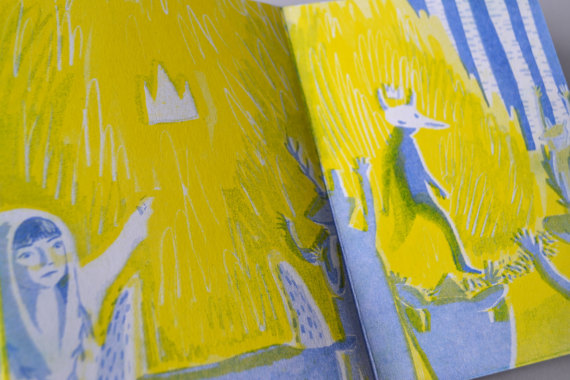 Both colour and physicality add to the tension and sense of revelation. The Iron Age group's world is introduced in predominantly blue hues which are slowly subsumed by the yellows of the ceremony's flames as their rite of divination impresses itself upon their environment. The comic's last ominous moment is presented with a turn of the zine flourish as A6 comic opens up into an A3 finale that looks out piercingly at the reader.
Samhain is not just a clever use of the potential of the physical form but also a gorgeous item in its own right.
For more on Mhairi Braden's work visit her site here and follow her on Twitter here. You can buy Samhain from her online store here priced £5.00. Mhairi will be at ELCAF from Friday-Sunday at Table 33. 
For regular updates on all things small press follow Andy Oliver on Twitter here.