One of our 2022 Broken Frontier 'Six Small Press Creators to Watch', artist Sammy Ward has been building an impressive back catalogue of work in the fantasy, horror and supernatural genres. With a particular skill in creating wordless comics stories like her Scavengers comics and The Deeper You Go Into the King's Wood, Sammy's work embraces pure visual storytelling with a subtly sophisticated style. I chat with her today about learning curves, guiding the reader's eye around the page, and her current crowdfunding project All Ghosts…
ANDY OLIVER: Let's start with an introduction to readers who may be discovering your work for the first time through the 'Six to Watch' initiative. Tell us a little about your wider artistic practice and background…
SAMMY WARD: I'm actually a self-taught illustrator and comic creator. I've always loved drawing and found myself drawing more and more even with a full time job, I wanted to make my own comic for a long time and I finally just worked up the self-confidence to do it. I had to figure everything out along the way from formatting a book to publishing it. I'm now a freelancer and continue to make my own comics.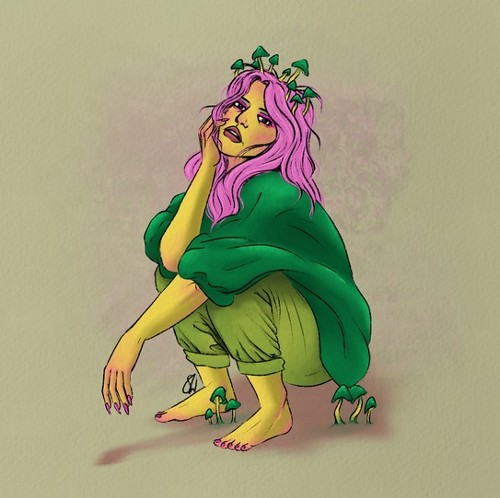 'Parrot Waxcap' from the #Funguary drawing event on Twitter
AO: What is it about comics as a form that appeals to you in terms of its storytelling possibilities? When did you first discover the medium?
WARD: This is probably a very common answer but the best thing about comics are the endless possibilities in storytelling. There really aren't many restrictions in creating a comic, there are of course traditional ways of making them but in the indie comic world I think there is something for everyone, that's why I love them. I was always aware of comics growing up but I never really had much exposure or access to them, no one in my family or friend groups were reading them. My art teacher had stacks of Beano comics in his classroom that I would sometimes flick through. The first comic I bought was a random issue of Kabuki by David Mack, the art and style of that comic just amazed me. I didn't fully get into reading more comics until I was at university and it hasn't stopped since then.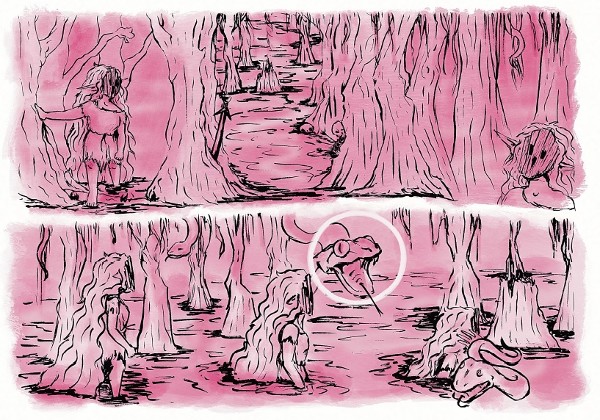 AO: One of the immediate things I can see from your work is how quickly your storytelling confidence has grown in a short time. The two Scavengers one-shots (above) for example, really underline that evolution. How do you feel your practice and creative voice has developed in that time?
WARD: I definitely delved right in with Scavengers, it started with me drawing the characters and I would create their story in my head.  When I decided to put them in a comic I wanted to share it online as a way of giving me accountability to keep it up. I had no real knowledge at that time what the best way to do that was, so I basically set up my own website and posted each page on there and my Instagram. It was just one huge learning curve making the first Scavengers but it definitely gave me the confidence to create longer stories. Also having more knowledge in panelling and using colour have really developed my comic making skills.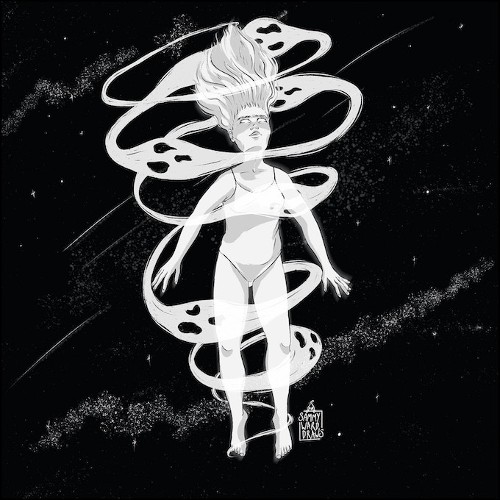 Vortex – The ancient celestial vortex sending lost souls to a new home.
AO: You're currently crowdfunding your newest comic All Ghosts (above) on Kickstarter collecting your AuGhost illustrations from social media. What's the premise of the project and what can readers expect from its pages?
WARD: I started participating in the #AuGhost drawing challenge online which is essentially drawing ghosts everyday throughout the month of August. I used prompts created by @therealaughost to inspire my drawings. I really enjoyed coming up with little stories and commentary for each prompt to base my illustrations on and as it built up I thought it would be a brilliant idea to collect them all in one lovely art book. I'm always attracted to the spooky and supernatural so I feel like I'm bringing a lot of my love for that in this little book.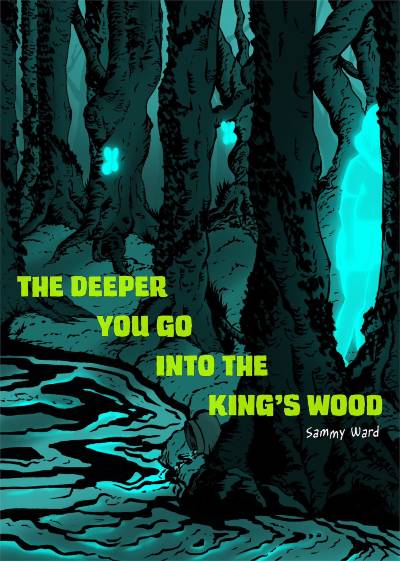 AO: One of the great strengths of your work is your ability to tell stories in a purely visual way. Your ghost story The Deeper You Go Into the King's Wood (above and below) is one of my favourite examples of this from your work. What are the both storytelling challenges and advantages of "silent" narrative for you?
WARD: The challenge in creating a purely visual comic is to make sure there is a clear narrative flow throughout the panel layout. This is important for most comics as a visual format but without any text and dialogue to guide the eye it's more important to have the imagery do this. It keeps me very mindful about key moments in the story that visually need to be impactful, when I need to build up tension and then give a big reveal on a page turn or ending a page with a visual hook to keep you wanting to turn the page. These are all challenging factors that become easier with more time making comics.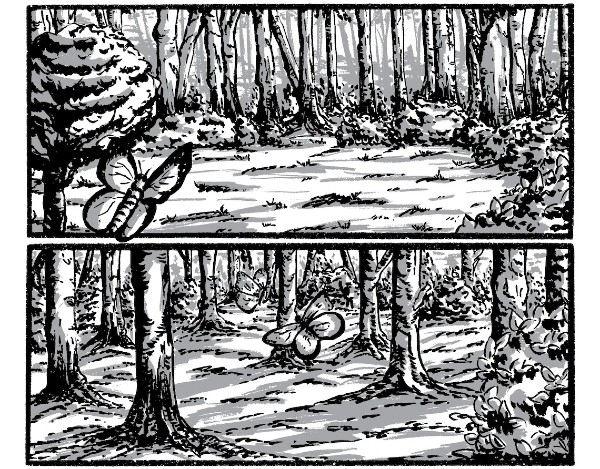 The advantage of creating a silent comic is definitely not needing to spend time lettering. I very much appreciate the art of lettering, it's a huge part of comics but I also love the mystery of not having any words on the page. I think the absence of text can bring a whole new level of atmosphere to a story. I sometimes find myself reading some comics speeding through the dialogue without first taking in the art. I'll read a page and then go over it again just to look at the art. That may just be me and how I read sometimes but I think in making silent comics I'm hoping readers will take their time with the art as they decipher the story for themselves.
AO: Much of your work can broadly be classed as horror and/or fantasy. What appeals to you about those genres?
WARD: Horror and fantasy are such broad genres, you can really take them anywhere. I think for me it's the abstract and the unknown, there's always something in these genres that capture smy curiosity that I just want to explore.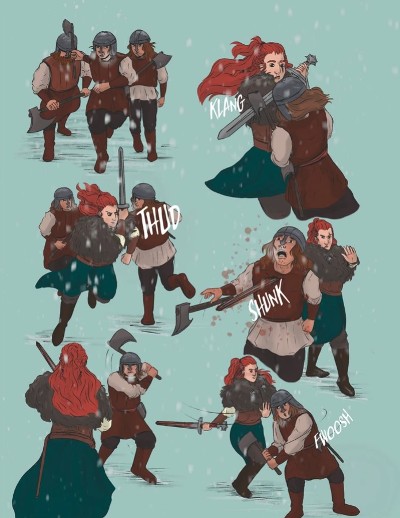 Art from Sagas of the Shield Maiden, written by Asa Wheatley and lettered by Ken Reynolds
AO: You have been a part of a number of anthologies in the past. How has being involved in those group efforts helped you to connect with the wider comics community?
WARD: It's been a joy to work on anthologies, I've worked mostly with my partner who is a comic writer which is always fantastic because we work well together and have always known that. Having the chance to connect and work with new writers has been a brilliant experience though. It has opened up wider connections with creators who come from all over the world. That's quite a wonderful thing about making comics with others; we don't have to be all in one room to create something great, as nice as that could be, we just need good internet. That and good email rapport.
Art from 'The Creative Process'
AO: Can you give us some insights into your creative process and the mediums you work in?
WARD: I work both traditionally (pen and ink) and digitally (Procreate on iPad). They both have their pros and cons but after I've been doing digital work for a while I want to go back to the traditional medium so I always flit between the two. When creating comics I always start with the script even if it's a very loose one I've written myself and then thumbnails/panel layout. Even digitally I'll start with pencils and then ink. Inking is maybe my favourite process but it's also the scariest if I'm doing it traditionally.
AO: You've been tabling at events for some time with your small press work. What advice would you give to new self-publishers about getting your work out there and raising your profile on the scene?
WARD: When I attended my first con I only had Scavengers. Just one comic. I remember listening to some creators talk about how you maybe shouldn't do that but that was after the fact. I had some good cons and not so good in terms of making money back. I think the best advice I can give is to really think about why you want to attend the convention and if you can risk making a loss. I made some wonderful connections with other creators thanks to cons and it really helped push me to be a part of the community. I think that can be just as valuable as making loads of sales but it's important to make sure you're not putting yourself in financial strain.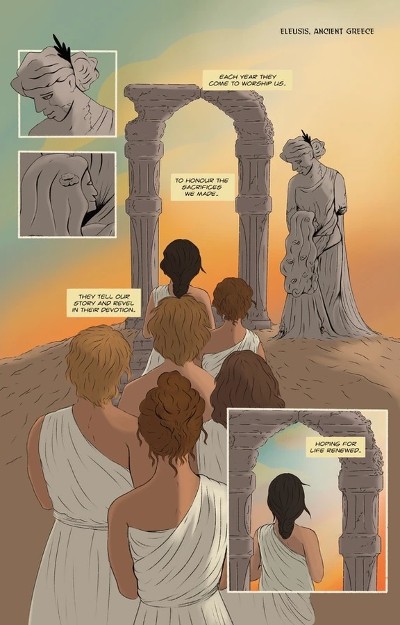 From Secret Rites
AO: And, finally, what can we expect to see from Sammy Ward in the future after the All Ghosts excitement has wrapped up?
WARD: I am working on my webcomic Bloom, a fantasy/horror comic about a young woman and her somewhat sentient sword. You can sign up to my newsletter to read new monthly pages for free but if you're feeling generous and want to help an artist out you can subscribe monthly on my Ko-fi page and receive exclusive content like original pages and process chat. I'm also collaborating with my partner on a fantasy, Dark Souls-influenced comic which I'm very excited to dig into once All Ghosts is complete.
You can visit Sammy's website here and online store here. Follow Sammy on Twitter here and Instagram here
Back All Ghosts on Kickstarter here!
Interview by Andy Oliver