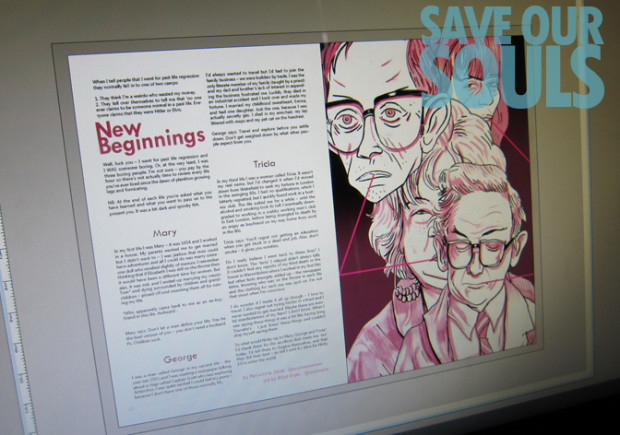 Save Our Souls is the brainchild of Private Eye cartoonist David Ziggy Greene whose Scene & Heard strips in that satirical magazine over the last few years have so formidably conveyed the communicative power of graphic reportage. If that name sounds familiar for other reasons it's probably because Greene was also responsible as the initial driving force for what has now become the first UK Small Press Day on July 9th this year. And to keep the tie-in references coming the next Gosh! Comics and Broken Frontier Drink and Draw night this Tuesday February 23rd is a Save Our Souls special with contributors Fumio Obata, Verity Glass and Brigid Deacon joining small press stalwart Sean Azzopardi and our artist-in-residence Danny Noble on the line-up.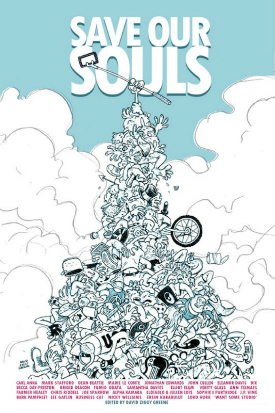 With a philosophy that looks to explore the inter-relationship between sequential art, illustration and writing, Save Our Souls is a carefully curated blend of comics and journalism. From the former perspective there are some notable names from the indie scene involved, two of whom have BF links – Broken Frontier Anthology contributor Mark Stafford and Coma Deep creator Brigid Deacon who was, of course, recently announced in this column as one of my 2016 'Six Small Press Creators to Watch'.
Greene's aim with the magazine is an admirable one – to get readers thinking about alternative methods of delivery of issue-led material and to perhaps bring the wider possibilities of comics as a form to an audience less aware of graphic journalism. To that end Save Our Souls is an intriguing concoction that attempts to find a home for articles and strips that range from profound social commentary to ephemeral and undemanding gag pieces. The focus for BF commentary, of course, is going to be largely on the comics side of the collection but it should be noted that the written articles offer an eclectic array of pieces covering topics as varied as reincarnation, independent living and wrestling.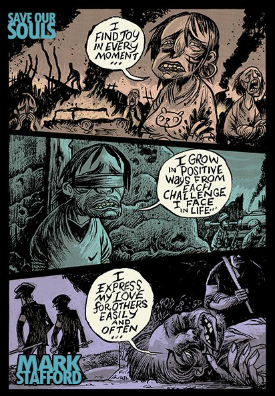 Let's start with the standout piece in Save Our Souls #1. Mark Stafford's contribution – 'Accentuate the Positive' (left) – is among some of his very best work to date. It's elegantly simple in premise – a thought-provoking comparison/contrast of motivational memes with the abundant horrors of the daily news cycle – yet it's overwhelmingly potent in delivery. Stafford's ability to evoke the grotesque and the uncomfortable in his visuals is particularly resonant here with the murky colouring adding a further disconcerting impact to a short but memorable four-pager. Provocative for all the right reasons.
Greene himself also underlines his long established reputation as a thematically versatile artist. On the one hand the book's cover shows off his slapstick cartooning style while on the other his interior strip on the 'Calais Jungle' provides a more sombre tone. Here fragmentary accounts of life for the refugees build up into a sobering whole with the humanity of the situation emphasised by Greene's almost elastically visualised characters set against his grimly realistic backgrounds.
Further in, graphic novelist Fumio Obata's study of the aftermath of the tsunami that hit Japan in 2011 is a delicately constructed piece of reportage. There's an empathetic intelligence to its delivery that is reflective and grounded; one that never forgets the individual human stories at the heart of a disaster of almost incomprehensible magnitude.
The original crowdfunding video for Save Our Souls #1
The comics material in Save Our Souls works best when it mirrors in terms of commentary and message the more journalistic written content, like Alpha Kamara's firsthand account of the Ebola crisis (illustrated by Jonathan Edwards). Eldiablo and Julien Loïs's account of the realities of surviving on the streets, for example, or Verity Glass's claustrophobically paced 'Wendigo' that uses more fantastical elements to nevertheless create a very cutting modern horror story. Dix's deliciously exaggerated caricatures similarly echo back to a great tradition of satirical cartooning.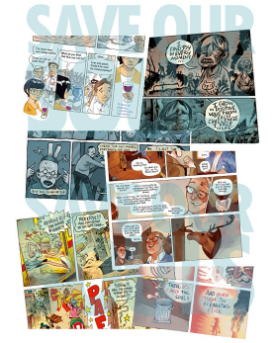 What does feel a little incongruous here are the comic strips that are simply punchline-led or embody a more throwaway humour. This isn't a criticism of craft or creativity in those cases but rather an observation that to a degree they dilute the book's sense of individuality. Over the years that I've been writing 'Small Pressganged' at Broken Frontier I've seen many self-published anthologies come and go but it's largely been those with a more pronounced sense of "self" – whether in terms of coverage or approach – that have shown the most durability in terms  of audience retention.
There's a sense then that Save Our Souls #1 is a book with a clear mission statement that is still perhaps in the process of fully cementing its identity. However, there's no denying the incredible promise of this publication in underscoring the validity of graphic journalism as a communicative tool. David Ziggy Greene's passion for the project shines through in both end product and enthusiastic social media presence. With its capability to reach new non-traditional audiences for its comics content Save Our Souls has the potential to become something very special indeed.
You can order copies of Save Our Souls #1 here priced £7.00 and follow the magazine on Twitter here.
For regular updates on all things small press follow Andy Oliver on Twitter here.
For details on the next Gosh! Comics and Broken Frontier Drink and Draw visit the Facebook page here.