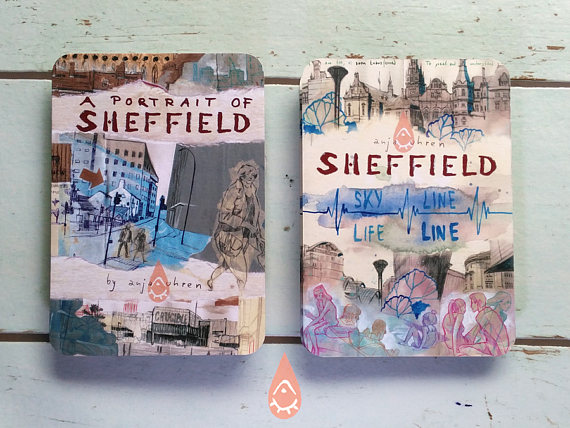 One of the great joys of overseeing our various Broken Frontier 'Six Small Press Creators to Watch' programmes at BF is observing the artists involved as their work evolves and moves into entirely new areas of practice. Anja Uhren, of our 2017 'Six to Watch', has focused on slice-of-life storytelling this year and proved that her often delicately entrancing visuals are a perfect match for autobiographical comics narratives.
That was something that was very much in evidence in the comics sections of her recent sketchbook collection Visual Thoughts III which I reviewed here at Broken Frontier earlier this summer. Like much of that book her latest zine/art object A Portrait of Sheffield is not exactly comics per se but there are certainly elements of sequential art to its graphic storytelling and I'm always intrigued by work that challenges our definitions of what comics are and aren't.
You can find out more about the project in the film link above but its origins lie in a one-month artist residency that Uhren took up as part of the SIX Project. The objective was to visually capture the vibrancy and character of Sheffield life and A Portrait of Sheffield was the result. Her approach was to create a collage-style representation of the city in a concertina sketchbook using paper artefacts that she found across the city as part of the finished book.
One year on she's produced a smaller version of the book in a gorgeously tactile version of A Portrait of Sheffield which is once again printed in the concertina format and can be opened up and read as two different but complementary narratives on opposite sides of the publication. It's the story of a month and a mission – a discrete moment in time and one artist's desire to capture the immediacy and the reality of the city and its people.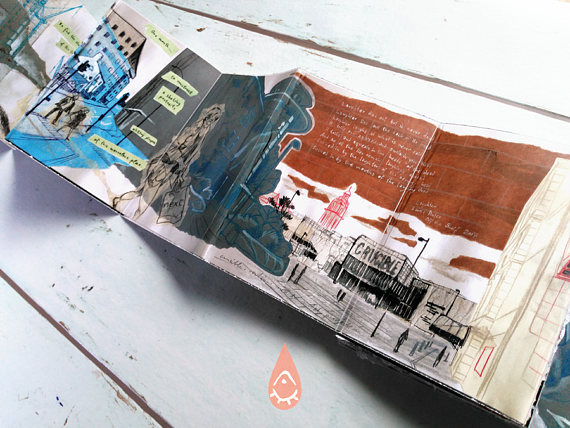 Fans of Uhren's wider comics work will note immediately that her style here has a more pronounced realism to it, and yet that haunting quality that permeates her work remains nonetheless. As we unfold the pages of the zine (in both its sections) it's impossible to escape that sense of the psychogeographical; of lives briefly converging, intertwining and then diverging on the streets of Sheffield in transitory, almost ghostly, moments. Echoes of existences caught by the artist on the page, fleeting and ephemeral and yet simultaneously embodying the racing pulse of the city.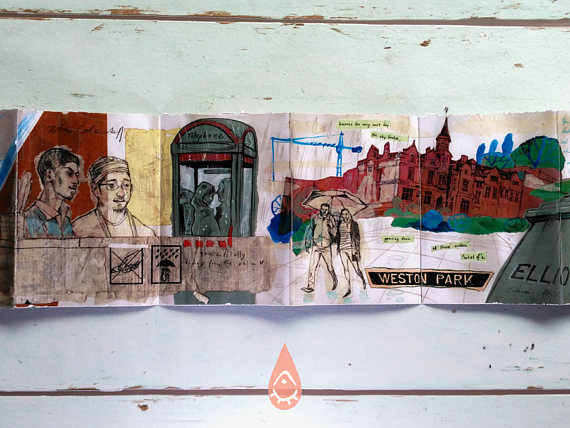 Those examples of found material that are incorporated into the imagery – tickets, flyers, paper scraps and the like –  and drawn over as part of the effect add another layer of veracity and thematic authenticity to the proceedings. The second part of the publication sees Uhren adding a visual dimension to the Andrew Motion poem 'What If?', further emphasising the lyrical feel of the entire project.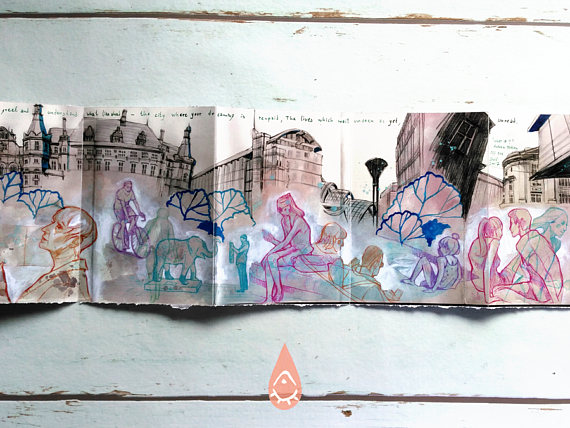 Work like this is a reminder (as if we need it) that there are still a wealth of possibilities in how we react to and interact with graphic storytelling in print that digital delivery can never emulate. The sense of time, place and space that Uhren's careful coloring choices and the book's fold-out format evokes needs to be experienced in all its physical glory. Anja Uhren's ever developing practice continues to captivate and charm in equal measure.
For more on the work of Anja Uhren visit her website here and follow her on Twitter here. You can buy A Portrait of Sheffield from her online store here priced £5.00. 
For regular updates on all things small press follow Andy Oliver on Twitter here.