Graphic wunderkind Simon Spruyt is back with a historical drama featuring brotherly rivalry set in late 19th-century Prussia. But will it reach the same high threshold as his previous graphic novel, SGF?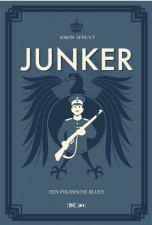 The Von Schlitts are a noble family in decline. The father is a war hero whose glory days are far behind him, the mother is an old-school aristocrat pining away in a health sanitorium in Davos, the youngest son is seen as a hopeless wastrel and the eldest is training to be a proud Prussian soldier.
But when the youngest, Ludwig, finds his peculiar talent at the military academy and the eldest, Oswald, declines into inner chaos, the roles are seemingly reversed. However, the fractured psyche of the Von Schlitts is not so easily overcome.
Belgian creator Simon Spruyt is one of a select troupe of artists that I always keep my eye on. In Junker – A Prussian Blues, he explores the themes of a slowly disappearing bourgeois family by following two sons. (Spruyt focuses solely on this family, to the degree that all other characters in the graphic novel are visually relegated to wearing blank faces.)
The story mostly targets the youngest brother, Ludwig. Spruyt's social commentary is translated into the contrast between the two brothers, Ludwig being the eternal thinker and Oswald being firmly embedded in the military and class system of the age.
Despite its historical and militaristic setting, however, Junker is the coming-of-age tale of Ludwig. This is firmly his story, it is his lifeline that is being set out and it is all about the challenges that he comes across. When following the obligatory path for any son of an aristocratic war hero, via military academy, his life is challenged in an unexpected way and he encounters something that finally brings some semblance of order to his life. Telling you what would spoil the book, though.
What matters is that Spruyt manages to convey the conflicted nature of both Ludwig and the society he inhabits. "I am a Von Schlitt", he exclaims, "but what is a Von Schlitt?" This is the axis of the book, and though the answer maybe won't be liked by either Ludwig or the reader, Spruyt manages to detail this process and make it believable (although he could have delved a bit more into Ludwig's psyche to raise the GN to a higher level). Junker ends at being not unlike a thoroughly enjoyable young adult novel, but fails to raise itself to a more complex level.
Drawing with a brush and colouring with ecoline, in a brighter version of Prussian blue, Spruyt re-invents himself all over. While in SGF – a book that itself featured a plethora of drawing styles – his line was hard and more straight, Junker displays a fluid line. It is an exercise in cropping images for interesting compositions, in distilling the minimal essential elements for a panel to work. Artistically speaking, it is a masterwork.
Writer and artist Simon Spruyt is one of that rare breed of artist that can fulfil two functions. Junker – A Prussian Blues features a well-thought-out coming-of-age story in a historical setting, coupled with spectacular art from an artistic chameleon. It's well worth your time.
Junker – A Prussian Blues by Simon Spruyt is published in Dutch by Bloan. It is a full-colour hardcover counting 192 pages and retailing for €24,95.