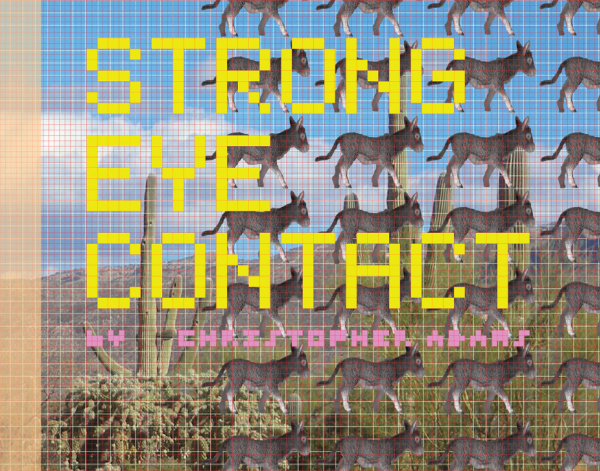 Perception is the key word when approaching Christopher Adams's Strong Eye Contact, published by the always intriguing Minneapolis micropress outfit 2D Cloud. On a surface level it's a collection of dialogue-free vignettes detailing random incidents in the life of a Mexican stand-up comic; isolated moments that combine to build up a picture of the small frustrations, setbacks and failings that make up his day-to-day existence. As protagonist he represents that blundering everyman comedic archetype: instantly recognisable to us as he lurches clumsily through his own narrative but detached enough from the audience that our relationship with him is more that of curious observer than empathetic participant.
For the first section of the book we watch in a series of one-page strips as events conspire against him; his life seemingly made up of the very material that his comedy routines would probably encompass. An embarrassing urinary splashback on his trousers becomes a furtive drama of concealment in a public library. An ill-judged  game of fetch with a dog leads to consequences that seem strangely tragic and yet slapstick at the same time. An accident while riding a Segway results in an instant of near epiphany. And the eagerly anticipated acquisition of a new waffle maker leading to an unsatisfactory solitary exercise in consumption.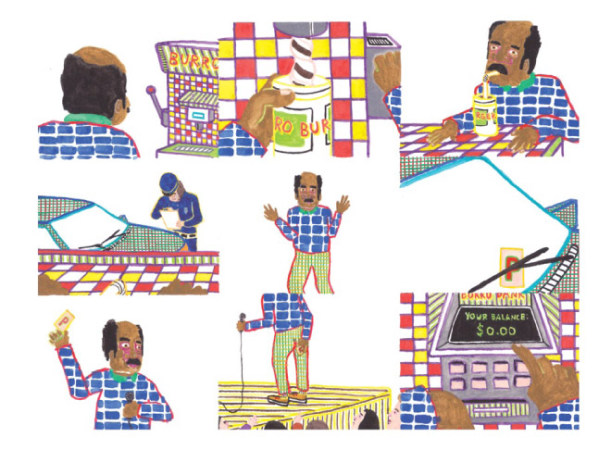 Throughout there is a tangible sense of attempting to find one's place in a consumer-led society with limited success. It's a world where the role of the ATM is vital and central, where owning the latest heavily advertised gadget becomes an essential pursuit, and where sugary, romanticised family life is the ultimate aspiration. In this series of fragmentary snapshots the utterly inconsequential can become a major victory while the insignificant and unimportant can seem like a crushing defeat. The life of the comedian becomes then, almost paradoxically, both extension and foundation of his stage persona. Profundity and triviality crashing together with an absurd abandon, each entry broken up by single page landscapes that add a sense of eerie reflection to the ongoing saga while ensuring each strip is viewed as a distinct entity in its own right.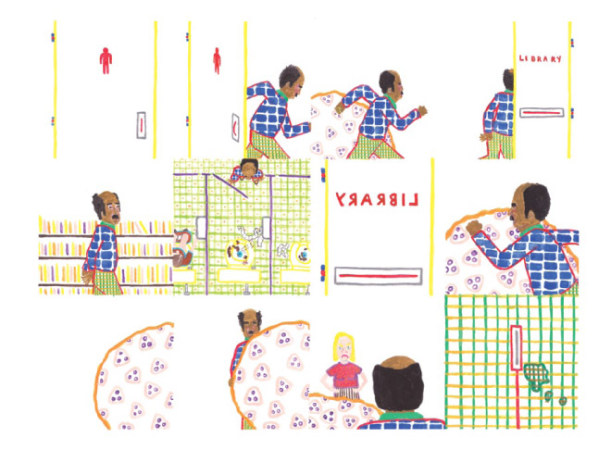 In the second segment of Strong Eye Contact Adams switches to a childlike crayoned illustrative style – the already well-mined use of expansive white between stories being taken a step further. A game of crazy golf ends in irritation when the comedian realises he has locked his keys in his car (below – click on images to enlarge). A predicament that has more than one potential scenario to its solution. Adams fundamentally affects the way the story is read by using just the very edges of each page, placing three vertically presented panels with a vast stretch of blankness between them. It slows down the pace of the reading experience, encouraging the viewer to linger longer on each set of images and absorb every small detail and action that make up this carefully constructed sequence.
The final part of the book is playful in its sense of chronological displacement, giving us single images with a tapestry look to them and inviting us to construct our own narratives from the elements depicted in them. Interspersed within a number of more sedate holiday style pics are more dramatic happenings – a car crash or a drunken collapse for example – that lend an air of sudden and jarring incongruity to this procession of cameos. It's here that Adams's meticulous use of colour is at its most pronounced. Throughout, our main character's checked clothing placed against a background of crosshatching and precisely chosen linework has given the sense that he and his world are constantly blending into each other, signifying perhaps that he cannot escape the monotony of this existence – the comedian and his surroundings are reflections of each other. You can see just how pronounced that motif is in this last section in the image below.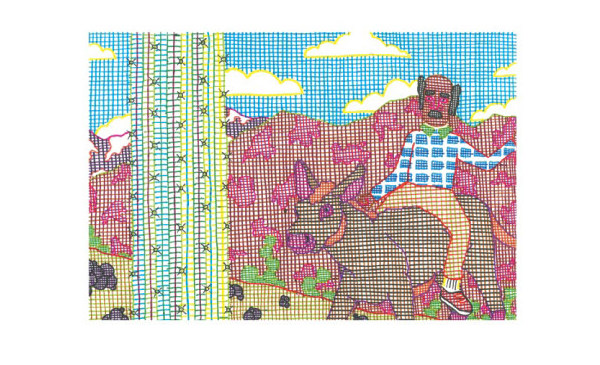 Strong Eye Contact is a layered offering that can be appreciated from very different perspectives. It can be construed as a slightly bizarre slice-of-lifer focusing on a sample of the tiny, discrete moments that, drawn together, make up the life of its accident-prone protagonist. Alternatively, you can interpret it as an experiment as to how the structure of the comics page can be endlessly tampered with to affect the reader's perception of time and space within sequential art. I can think of few comics I have reviewed recently more likely to elicit completely different responses from its audience than this one. Pensive, with a subtle visual articulacy, Strong Eye Contact represents an open invitation to its readership to discover their own meaning from its disparate approaches to the medium. Another fascinating use of the form by Christopher Adams.
Strong Eye Contact is available from 2D Cloud here priced $14.95. For more on the work of Christopher Adams click here.