Katie Green's The Green Bean is something of a phenomenon. Perhaps the best way to describe it would be to call it an "illustrated journal zine" but that feels a little inadequate as a classification for this eclectic collection of ponderings on life, book reviews (including comics and graphic novels), arts and crafts ideas, recipes and, yes of course, the occasional comic strip. It really is a one-of-a-kind publication opening a window into the everyday life of this wonderfully engaging small presser. To label it as eccentric and quirky sounds a little twee but this is such a distinctively idiosyncratic piece of self-publishing that I can think of no better adjectives to use.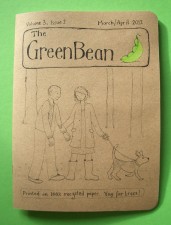 Over the last year and a half The Green Bean has presented themed issues on topics as diverse as the art of zining itself, the author's love of maps, her holiday to Greece and an entire edition devoted to simply her "favourite things". But by far the most memorable number over the last year or so was The Green Bean that was dedicated to Katie Green's grandfather, "Grandad Green", after his passing at the age of 95. While poignant it's never maudlin, and acts as a quite beautiful celebration of his life, packed full of anecdotal stories and acutely observed visual recreations of childhood memories. If you're ever looking for an entry point into the world of The Green Bean then Volume 3 Issue 2 serves as a perfect introduction to this project. The short 3-page comic strip about one of Grandad Green's D.I.Y. mishaps therein is worth the price of purchase alone…
Later this year Green's first graphic novel Lighter Than My Shadow – "a graphic memoir of eating disorders, abuse & recovery" – will be published by Jonathan Cape, who have released a number of GNs that have garnered very positive critical feedback here at Broken Frontier over the last year (Adamtine, The Tale of Brin & Bent and Minno Marylebone, Days of the Bagnold Summer and Please God Find Me a Husband!). The latest issue of The Green Bean (Volume 4 Issue 1) is, perhaps, a more contemplative issue than most as it reflects on the months of work that Katie undertook on that book.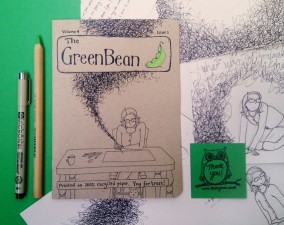 What we have in this offering is a fascinating insight into the creative process, detailing the logistics of her craft, those moments of subconscious procrastination, the stress involved (both mental and physical), and the essential escape mechanisms/coping strategies she adopted to deal with the pressure involved in bringing a full-length graphic novel to life. It jumps between comic strip and illustrated essay form with lively yet subtle visuals that build an almost empathic bond between audience and creator. I suspect that in a few months time, when Lighter Than My Shadow is on the bookshelves, this will be an essential addendum to the main text for revisiting.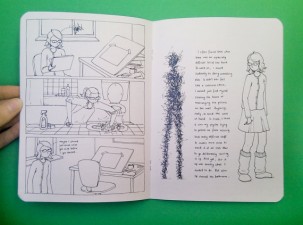 When I reviewed Simon Moreton's Smoo Comics #5 in 'Small Pressganged' last August I stated that "Some of the very, very best in autobiographical comics are those that feel they have been written as much for the creator as they have for his or her potential audience" and in many ways that's a sentiment I feel applies to Katie Green's work on The Green Bean. It's a zine that seems to exist as much for Katie as it does for the readership she pitches it at and, as such, has an openness and honesty that is enormously endearing. While I should stress that sequential art, per se, is only one tool in Katie Green's narrative box of tricks (and not even featured in every issue) The Green Bean is one of those small press publications that, once sampled, you can't help but fall in love with. Utterly splendid.
For more on Katie Green's work check out her site here. Issues of The Green Bean are available via her online store here. And for more on her upcoming graphic novel Lighter Than My Shadow published by Jonathan Cape in October then visit the book's website here where you can also read a 24-page preview.