Haunting and melancholy yet ultimately hopeful, Ray Fawkes' harrowing journey through a nation of forgotten ghosts will literally "move" you.
Ray Fawkes' exploration of Canada's lost, forgotten souls will move you – literally.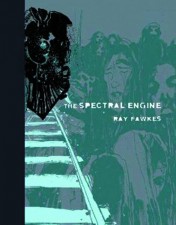 Strong words, to be sure but The Spectral Engine isn't like most graphic novels. That's saying something for the Eisner-nominated Fawkes, who's also currently turning heads in the mainstream arena as the writer of Justice League Dark for DC Comics. One of a new breed of Canadian comics creators that counts critically-acclaimed names such as Jeff Lemire (Justice League America, Trillium) and Kurtis Wiebe (Peter Panzerfaust) amongst its numbers, Fawkes pushes the boundaries of the graphic narrative in ways almost impenetrable to even the most discerning critics and fans.
Constructing a thematically-linked collection of historically-documented Canadian ghost stories from across the nation, The Spectral Engine careens along in staccato fashion from its opening pages to its closing panels. The overriding themes here are anonymity and loss; the vehicle a fluid, constantly-changing steam engine that traverses time and space, linking a vast, still often barren nation through perpetual kinetic movement and unexpected intimacy. Fawkes realizes a near-perfect marriage of words and pictures. Similar to Lemire's Essex County and his own One Soul, The Spectral Engine transcends the medium. These are stories, pure and simple. They just happen to be visually presented.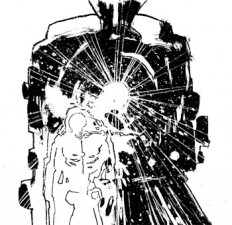 Racing from east to west, ricocheting through the ages like a sinuous mechanical snake, the Engine only ever stops moving long enough to pick up its next ghostly passenger, usually some nameless, long-forgotten nobody who died unnoticed. Fawkes' narration is appropriately sparse yet ably fills in the details often only suggested in his atmospheric and sometimes seemingly slapdash spotting of the blacks. Everything comes together with an eerie, elegant grace, the purposeful murkiness of Fawkes' imagery revealed by his concise narration and attention to emotional detail. With its relentless stutter-step drive ever forward and ability to evoke complex emotion through the merest of visual and literary suggestions, The Spectral Engine will leave you breathless by the final page.
The Spectral Engine lends itself to all of the familiar adjectives and epithets befitting a work of such fearless introspection and imaginative intensity: haunting, breathtaking, and genius, though none of these words do Fawkes' book justice. More than a simple collection of short stories to be related around the campfire, Fawkes has gifted us with a secret saga allowing even though of us born and raised there, a rare and rarified glimpse into the dark heart of Canada's forgotten history.
Although often tragic and melancholy, The Spectral Engine isn't a book about hauntings. It's a book about memories and for the first time, perhaps ever, several of the lost souls contained within its pages can finally be remembered.
Ray Fawkes (W,A) • McClelland Stewart, $27.95 (CAD), October 23, 2013.