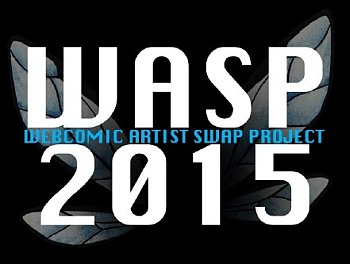 This week sees the third Webcomic Artist Swap Project (WASP) taking place, beginning tomorrow Monday March 2nd and continuing until the 8th. Over the past two years the event has included the work of a number of UK self-publishers swapping art duties on their respective webcomics.
Original WASP showrunner Richy K. Chandler (Lucy the Octopus, Bang! Crash Whizz!) has stepped back from the organisational duties this year and handed over the reins to Francesca Dare (Penny Blackfeather) and Sarah Turner (Folklore).
Turner comments, "I'm delighted that we've had such a positive response from so many artists this year. We have talented writers and comickers from around the world including Japan, the USA and England. The project is something really special, whilst not unique, it's certainly a great way to get to know about new comics and artists! I was honoured to take part last year, and am even happier to help in the running it now…here's to WASP 2016! We'd love new creators to join in, so don't be shy! Get in touch and let us know."
Dare adds, "Webcomics each have their own unique spark, so when you mix them together you get some pretty sweet explosions. That's what WASP is all about; creating something new by combining great talents, while having a blast all the way."
Creative endeavours like WASP are a reminder of the wider sense of community that exists on the self-publishing scene and it's certainly produced some intriguing re-interpretations of favourite characters and strips in years past…

Richy K. Chandler's Lucy the Octopus drawn by Zarina Liew
Nicola Streeten's A Year at 50 drawn by Richy K. Chandler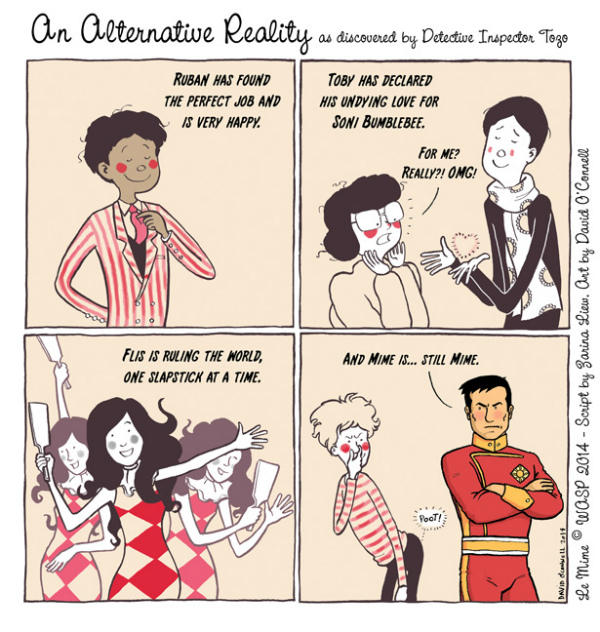 Zarina Liew's Le Mime drawn by David O'Connell


The artists taking part in 2015 include:
Paula Albaneze The Magic Flute
Alex Brenchley Overground
Rebecca Burgess and Holly Caddick Headcase
Richy K. Chandler Lucy the Octopus
Mewa Chu Sapphire Days
Francesca Dare Penny Blackfeather
Anna Dowsland Don't Feed the Pigeons
Midori Harako Chrysanthemum Alley
Chie Kutsuwada and Inko Ai Takita Go! Go! Metro!
Jenny McKeon & Alex Chaunyan Eerie PD
Jess Milton Jason
Jade Sarson Cafe Suada
Sarah Turner Folklore
Paul Shinn and Lauren Murphy will also be contributing art/writing!
For more on WASP visit the Facebook page here. Richy K. Chandler talked to me about the origins of WASP at Broken Frontier here.
And, finally, above right is a reminder of Richy K. Chandler's visual summation of WASP from last year's fun and games…
For regular updates on all things small press follow Andy Oliver on Twitter here.