THOUGHT BUBBLE 2022! Sometimes you only need the smallest sampling of material to know an artist has both that extra special understanding of the mechanics of comics and also that quality that means their work will always have an edge over their contemporaries. Manon Wright is another creator I selected for Broken Frontier's annual 'Six to Watch' feature based on just the tiniest handful of pages and illustrations. If you had any doubts I can assure you that choice is entirely vindicated by her first self-published comic Children of the Earth & Sky.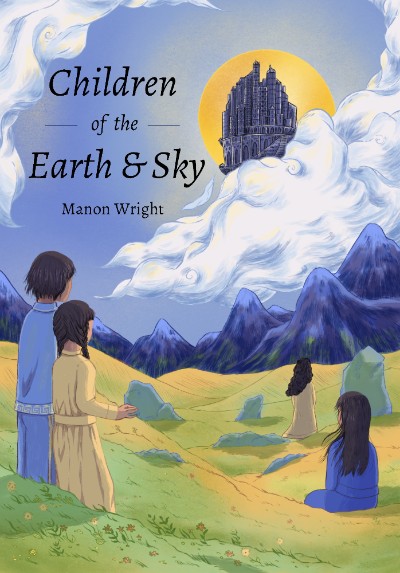 In terms of world-building Children of the Earth & Sky is set in two distinct but indelibly linked environments. The first is on board a massive sky ark thousands of metres above where a lucky few from the planet's population have been transferred to after their civilisation caused an environmental collapse. The second is the world below which may or may not be an alternate Earth. In the opening section 'Above' we meet our initial protagonist Noah at the time of the "Arrival" – a tradition every six years where two children from the land below are adopted into their society. Noah is also suffering from violent nightmares and waking dreams related to his perception of the state of the planet underneath them and is disillusioned with life "in this flying bird cage"…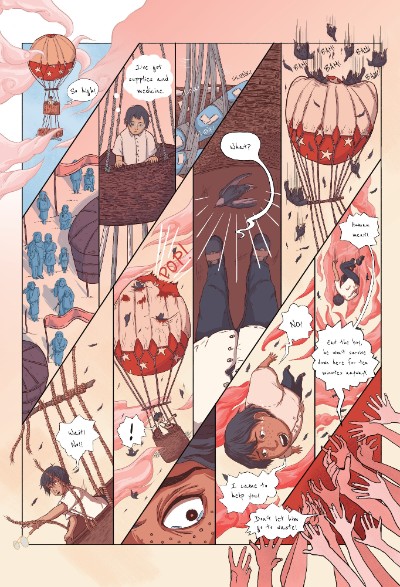 The book is split into two halves so that we can experience the contrasting worldviews of those left behind and those who got to be a part of the "Ascension", as the residents below have mythologised the launch of the ark. In second section 'Below' we see events from the viewpoint of twins Nora and Leila whose perception of the custom that Noah knows as the "Arrival" is very different from his.
Children of the Earth & Sky is a fascinating study of how two strands of humanity have diverged and evolved into separate patterns of thinking and understanding. In the sterile environs of the majestic floating metropolis Noah is haunted by his beliefs of a planet underneath them that is brutal and savage. Nora and Leila, however, are living a far different and bucolic life on the surface. Their understanding of what has happened above now couched in the terms of legends, gods and goddesses.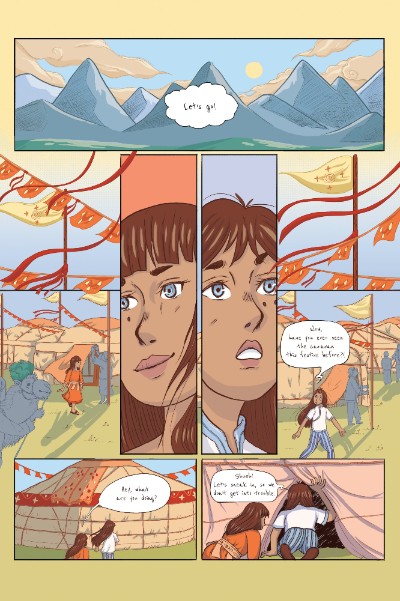 Wright's story is carefully constructed, pulling the rug out from under the readers' expectations and reminding us of the dangers of assumption. There's clearly a social message to be taken from Children of the Earth & Sky but it's also a notably strong piece of sci-fi parable that is intelligent in narrative design and build-up. Impressively, in terms of panel-to-panel storytelling, there's a different narrative technique on almost every page . Wright consistently alters page structures to evoke high drama (the unsettling panel layouts of Noah's Nightmares) or plays with perspective in order to benefit the world-building aspects of Children of the Earth & Sky. Where appropriate her illustrative approach completely shifts, as in the sequences where we see the history of the "Arrival" or the myth of the "Ascension".
What Manon Wright provides here is an assured debut; a tale of how one historical catalyst resulted in parallel cultural development that is thought-provoking and raises so many interesting questions for the reader to consider. A remarkably confident first long-form offering from a creator who… let's face it… we told you was "one to watch".
Manon Wright • Self-published
Manon Wright is at Table 16B in the ComiXology Hall at Thought Bubble 2022
Review by Andy Oliver