On June 6th the Crouch End Comic Art Festival (CECAF) – Sean Azzopardi's smaller scale but incredibly welcoming and relaxed show – returns to the Earl Haig Hall as part of the larger Crouch End Festival. Last November's inaugural CECAF was considered something of a triumph by all who attended for both its friendly atmosphere and appeal to a non-traditional comics audience.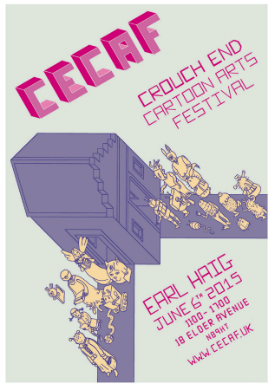 This year Broken Frontier's presence at CECAF will go beyond that of merely observers and commentators as the festival marks our first foray into exhibiting at an event. The BF table will be championing come of the work of my 'Six UK Small Press Creators to Watch in 2015' alongside some other deserving small pressers. I will be joined on the day by creators Rozi Hathaway and Emma Raby, with Danny Noble – another of that celebrated six – on hand nearby. Artist Keara Stewart will also be joining the BF throng with copies of her anthology A Bit of Undigested Potato featuring Danny and Rozi's work.
Once again Sean has curated a guest list that celebrates the exciting diversity of the current independent and self-publishing comics scenes. I described last year's show here as "a festival that sought to take indie comics out of their usual confines, and to promote the form to an audience beyond the regular devotees." Below I look at a selection of some of the 25-plus creators attending and link back to previous 'Small Pressganged' coverage to give you an idea of what to look out for!
If you're attending on Saturday then do come over to the Broken Frontier table and say hello and take the opportunity while at CECAF to meet Rozi, Emma and Danny – three incredibly talented creators whose work we've been proud to champion this year at BF. Full details of the event can be found on the CECAF site here…
Broken Frontier Presents Andy Oliver's 'Six UK Small Press Creators to Watch in 2015'
The BF table will be spotlighting the work of my 'Six UK Small Press Creators to Watch in 2015' including comics by Jess Milton (Kentish Town – reviewed in its Dirty Rotten Comics incarnation here), Adam Vian (Long Lost Lempi reviewed here) and Alice Urbino (Dimension reviewed here). You can meet two of those six creators on the day as Rozi Hathaway (The Red Road) and Emma Raby (The Dead Moon: A British Folktale) will be in attendance alongside BF's new Editor in Chief Andy Oliver.
Danny Noble
Danny Noble – another of those 'Six to Watch' is also at CECAF selling copies of Monday Morning – a comic I described here at BF as "a genuinely laugh-out-loud catalogue of booze-related personal disasters, resigned reflections on modern living and inadvertent public slumber" – and Was it… Too Much for You?, a collection I spoke of in the glowing terms of "the cleverest and most original use of the form that it's been my pleasure to review so far in 2015" here. Danny will also have her self-published prose novel Mary Deadly – a poignant examination of friendship wrapped up in an absorbing mystery – available on the day.
Avery Hill Publishing
The acclaimed micropublisher have become one of the most important players on the UK small press scene over the last 18 months – to the point that they fought it out with Image Comics, Boom! Studios, First Second and SelfMadeHero in the Best Publisher category in our 2014 Broken Frontier Awards. Publishers of books like EdieOP's Maleficium (reviewed here), Alex Potts's A Quiet Disaster (reviewed here) and Gill Hatcher's The Beginner's Guide to Being Outside (reviewed here), they'll be debuting Abraham Christie's Swear Jar on the day.
Backwards Burd
This small press collective have become well known on the London comics scene for their irreverent, often risographed material over the last couple of years. I've reviewed both their multi-creator anthology F*ck You! Kitty Jenkins here and Sajan Rai's Petty Beach here in 'Small Pressganged' over the last year or so.
Breakdown Press
Breakdown Press describe themselves as being "dedicated to publishing the very best in comics art, whether the cutting edge work of new cartoonists or undiscovered classics of the past." You can check out reviews of some of their books at BF here including Antoine Cosse's Mutiny Bay, Lando's Gardens of Glass, Inés Estrada's Sindicalismo 89, and Conor Stechschulte's Generous Bosom.
Craig Conlan
Craig Conlan's comics were covered recently here at BF when I said of them, "The Ghost Cat comics are a genuinely all-ages read. Kids will love the grotesque naughtiness inherent in the strips – it's cutesy but rather unsettling at the same time – while for adults the sinister but clever jesting will be a source of great appeal."
Douglas Noble
The often experimental work of Douglas Noble runs from the measured comedy of Robotnik to the more oblique narrative of Youthful Attack. You can read a full interview with Douglas here at Broken Frontier.
Francesca Cassavetti
One of the true mainstays of the UK self-publishing scene Francesca was also one of the six finalists in the Myriad First Graphic Novel Competition last year. You can find out more about her autobiographical comics work here.
Limehouse Comics
Publishers of the alternative World War I anthology To Arms! that developed from Gosh! Comics's Process Group and included work from the likes of Jess Milton (below centre), Tim Hassan (below left), Mike Medaglia, Alex Potts, Matt Boyer (below right). Owen D. Pomery and Jessica Martin. Read my full review here.
Martin Eden
Martin Eden's all-gay super-hero team Spandex are one of the few concessions I've made to the capes and cowls brigade in 'Small Pressganged' over the years and with good reason. Martin's stories may adopt some of the familiar standards of the genre but there's a true humanity to them that makes them compelling reading. You can find out more in my review of The Spandex Special here.
Matt Boyce
Another recent reviewee in this column I said of Matt Boyce's minicomic anthology Everything here a couple of weeks ago "while much of the work here may seem unassuming to the eye Boyce has a sophisticated understanding of the communicative power of the form. Modest but profound, this is a must-buy for those attending the Crouch End Comic Art Festival in June…"
One Beat Zines
Sarah Broadhurst and Julia Scheele's One Beat Zines collective emerged this year with a stated aim to distribute zines by women with strong feminist voices. Their Sleater-Kinney fanzine Not a New Wave, with its wealth of comics talent, is well worth picking up on Saturday.
Paul B. Rainey
Another pillar of the UK small press community, Paul B. Rainey's time-travel/slice-of-life epic There's No Time Like the Present was recently published by Escape Books. You can read a full interview with Paul here at Broken Frontier and read my review of his series Thunder Brother: Soap Division here.
Roger Langridge
Roger Langridge's quirky and always fun comics work encompasses everything from the self-publishing arena to licensed characters like Popeye and The Muppets.
Sally-Anne Hickman
Sally-Anne's recent comics venture with Richy K. Chandler, Bang! Crash! Whizz! was an absolute delight for the younger reader. No doubt she will also have some of her prolific diary comics on sale as well at CECAF.
Simon Moreton
""Quite simply, he is one of the most important and intelligent creative voices in current UK small press comics." That's one of my more widely quoted 'Small Pressganged' soundbites but Simon Moreton's return to the autobiographical minimalism of Smoo Comics this year has only served to re-enforce those words. Check out our reviews of Smoo Comics #8, Smoo Comics #9 and Days.
Sarah Gordon
Sarah's fertile imagination, wicked sense of humour and often animated visuals are always a joy to behold. You can read my thoughts on her books Box of Things and Sad Pictures to Colour In here at BF.
Tiny Pencil
Amber Hsu's graphite-based artszine mixes pure illustration and comics and has been one of the most consistently excellent anthology titles on the small press scene over the last couple of years. You can read all of our Tiny Pencil-related coverage at Broken Frontier here.
Zoom Rockman
Fourteen-year-old Zoom has been producing his own comic The Zoom! since he was 8 and has been drawing a strip for The Beano since he was 12. He will have four new satirical minicomics debuting at CECAF:
Charlie and the Cadbury Factory ("Kraft have changed the recipe and the British public don't like it!")

Apple iSmell "Steve Jobs launches the latest Apple product – It stinks!"

Google – There's a Glitch and We've Lost Everything! – "Featuring an angry JR Ewing as CEO and a bunch of useless staff"

IKEA BABY – "It's a bit like Tarzan but set at Brent Cross IKEA."

Also tabling at CECAF are…David Baillie (top left), Alfie Gallagher (top centre), Oliver Lambden (top right), Daniel Merlin Goodbrey (bottom left). Claude TC (bottom centre), Iella (bottom right), Pete Clack and Dan Lester.
For more on CECAF 2015 check out the site here.
For regular updates on all things small press follow Andy Oliver on Twitter here.