In 'Covers Album' we ask comics creators, publishers and commentators to pick three of their favourite comic covers …but with a small twist. One must be chosen for aesthetic reasons, one for inspirational reasons and one for pure nostalgia!
This week we have three picks by John Cei Douglas whose comics have included Show Me the Map to Your Heart & Other Stories, Badger Vs. Tiger! and After Maria. John's new book is All the Places In Between, published by Liminal 11.
Inspirational Choice: Sleepwalk (2008) by Adrian Tomine (Faber & Faber)
When I started making comics this is absolutely what I was looking at for inspiration/trying to rip off completely. With this cover I was really struck by the deep solid blacks and little pools of light, which always really fascinated me, like you could just go and get completely lost in that dark night. In 2003 this was everything to me. Along with Clowes, Seth and Chester Brown it opened me up to a whole new world of comics I previously didn't know existed, and basically led to me quitting my data entry job and trying to make a comic instead. I sent a copy of that very comic to Adrian and he sent me a lovely little encouraging note as well, which was such an important little thing to me. I still keep it on the noticeboard in my studio even now.
The cover of Sleepwalk is wraparound, and how I really appreciate those sort of incidental details on the back cover which take on so much importance in small intimate moments.
(Honourable mentions to Eightball #22/Ghost World, and Daniel Clowes' artwork and colours which always managed to be iconic and nostalgic even while being new.)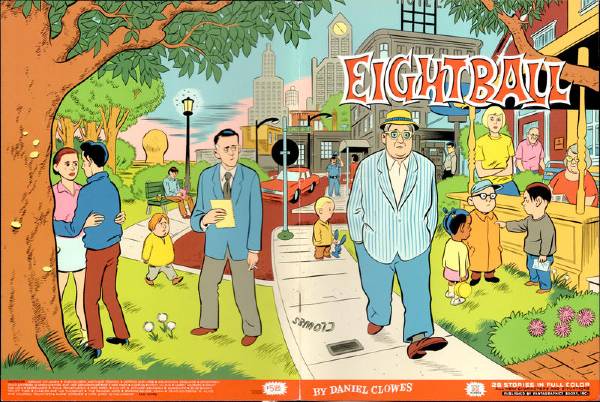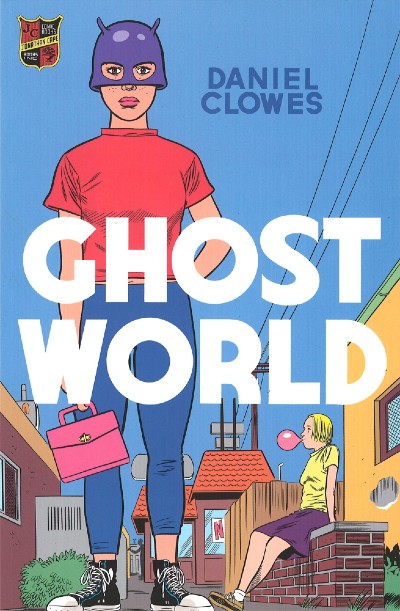 Aesthetic Choice: Moomin: The Complete Tove Jansson Comic Strip (2006) by Tove Jansson (Drawn & Quarterly)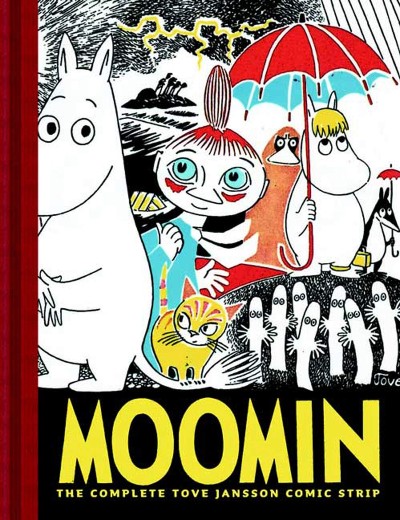 The design of this whole series of books is so good, as is so often the case with anything from Drawn & Quarterly, and obviously Jansson's illustrations are always wonderful, her colour palettes, everything. Her work is just amazing to me, she's my favourite artist ever and I wish her genius as an artist was more widely recognised. That might sound a bit weird considering, but to me she's one of the most visionary artists of hers or any time. The body and breadth of her work and writing is ridiculous and amazing.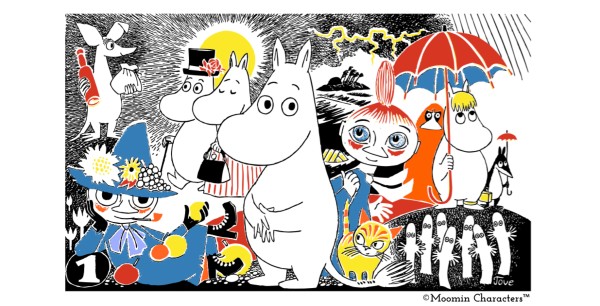 Nostalgic Choice: Amazing Spider-Man #400 (1995) by Mark Bagley and Larry Mahlstedt (Marvel Comics)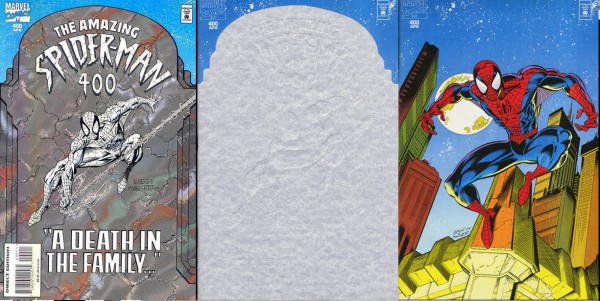 This is about as nostalgic as it gets for me, and I probably could have chosen just three Spider-Man covers, because they were really the only comics I read for a long, long time. I've probably read more Spider-Man comics than any other comics, but also probably haven't read one for well over 6 years.
So Amazing Spider-Man #400 is kind of a terrible cover in lots of ways, it's got this grey textured card cut out in the shape of a gravestone and embossed with the art which you kind of can't see or read because it's too subtle, and underneath there's a glossy splash image of pure Mark Bagley art, all limbs and muscles and 90s comics. At this point I thought Mark Bagley was the greatest artist that ever lived, and only later found out he got the job by winning a competition, I think?
Anyway, this cover was basically everything that was important to me at one point. It's the first cover that comes to mind to me for so many reasons! I can't even remember all the details now, but me and my friend Rav somehow got in a huge fight over getting it. We were both obsessed with Spider-Man, and used to daydream about making our own web-shooters in the shed (we didn't manage or really get any further than going in the shed FYI). And back then US comics turning up at the newsagent was kind of rare and random, you never knew what might pop up or when. We didn't even know if it would come in at all, so we were competing about who was gonna get it as well. It was so important, it was definitely the only thing that mattered that week. This issue was *super important* because somebody died (Aunt May), and we were naive enough to still believe they meant it. I think he managed to get the only copy of it from the local newsagent, and then kept taunting me with his copy or something like that. I got super jealous and many trades were offered and rebuffed which only made it all that much worse.
Later I would discover there was an actual comic shop in Leicester, and paid too much for a copy which is probably still languishing in the attic back there. I still kind of love it though.
Visit John Cei Douglas's website and store here.
Read the full 'Covers Album' back catalogue here. If you're a comics creator, organiser, commentator or publisher and you'd like to take part in Covers Album contact us by e-mail here.