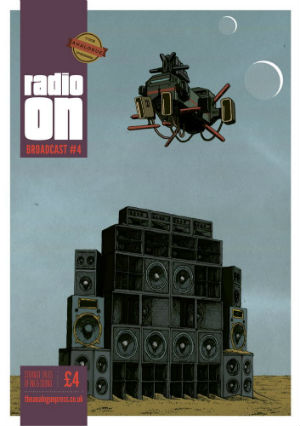 As I said when we chose the latest issue of Rob Carter's annual music-themed anthology Radio On as one of our Staff Picks last month, its a project that is notable not simply for its theme but for the clever and playful ways in which its contributors use comics to explore those aural motifs. I've described the book in the past at BF variously as an "anthology with, refreshingly, some vastly varied approaches to the specified subject matter" and "a comic with a great deal of promise to its central premise."
The seven stories in this latest issue look at the the ways in which music influences us, inspires us and even consumes as, and contains work from both luminaries of the UK small press scene and some newer names, including Broken Frontier 'Six to Watch' creator Emily Rose Lambert, Joel Benjamin, Mama Lips, Kit Palmer, Darrell Thorpe, Neil McKenzie, Bob Turner, Luke Halsall and Nick Gonzo.
As ever, the book's stylish sense of design is immediately apparent upon opening up that striking Anthony Downie cover. Unsurprisingly, given the subject matter, autobio work plays a major role in this fourth edition. Joel Benjamin, for example, begins with a tribute to Gerry Rafferty's song 'Baker Street' and gives an account of how it became a theme tune to the up moments in his life. It's short in page count but all the more effective for that with each frame providing a jump in time that emphasises the importance of the song as a triumphant backdrop to scattered points in his history.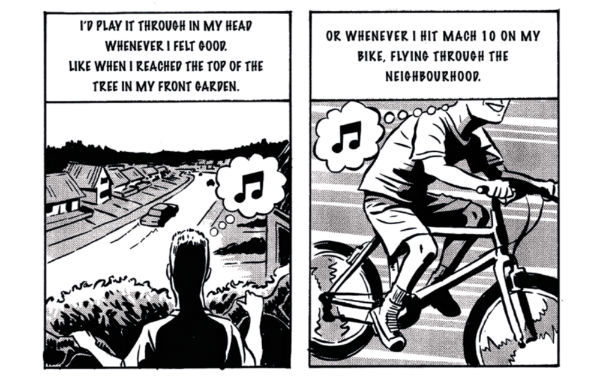 Darrell Thorpe (aka Forpe) examines how music can fuel the creative urge in 'Another Day a the Office', taking us on a fantastical journey of visual metaphor as we join him on a working day. Unconventional panel placements give a sense of industry to Thorpe's pages with his vibrant hues lending an air of the bizarre to the everyday. Completing that semi-autobio strand in 'Quiet Violence', Mama Lips looks at the story behind Springsteen's Nebraska album and their own obsession with it; their rawer artistic style making the story feel all the more intensely personal.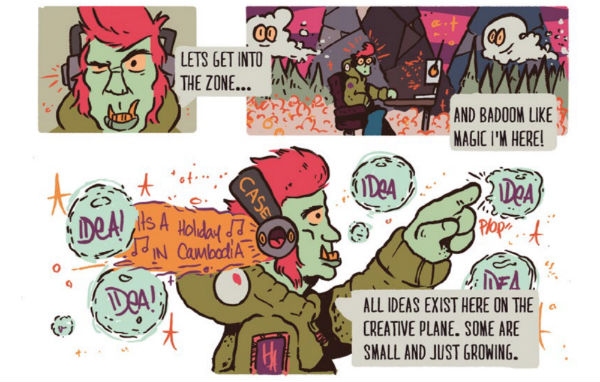 Moving on toe fictional slice-of-life material, Kit Palmer's 'Caring is Creepy' uses the experience of discovering a new band as an allegory for relationships and moving on. Atmospheric colouring, accessible cartooning and careful pacing in terms of page construction ensure this is an intriguing introduction to Palmer's upcoming Liminal series.
Of course we'll always be drawn first and foremost to the work of a Six to Watch creator at BF and Emily Rose Lambert provides another memorable mix of mythological influences and oddly anachronistic elements in the heartwarming 'The Song of the Armadillo'. Therein the titular beast begins a quest to learn how to make beautiful music which has an unlikely and fatalistic twist to it; the gradual build of Lambert's tight panels giving this graphic fable a storybook feel.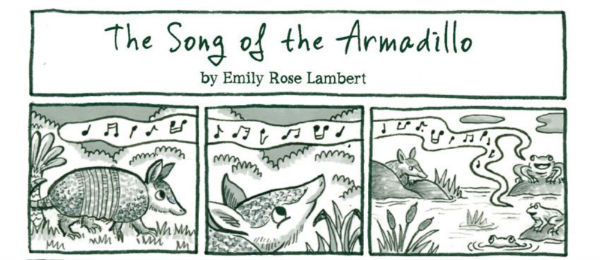 The issue is rounded out by Halsall and Gonzo's look into the secret musical world of Jeremy Corbyn, and McKenzie and Turner delving into the life and death of Sam Cooke. There's some playful use of the nine-panel grid in the latter offering that gives a jaunty feel to otherwise rather sombre subject matter.
With a central theme that ensures its identity but is still broad enough not to be constrictive, Radio On remains a book that provides a solid sampling of the UK small press scene. And at just £4.00 a copy it's an economically accessible one too…
You can buy Radio On: Broadcast #4 here priced £4.00. Find out more about the book on the website here and follow them on Twitter here. 
For regular updates on all things small press follow Andy Oliver on Twitter here.