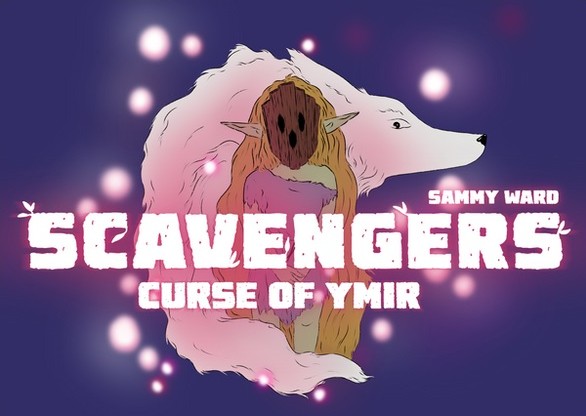 SLCZF WEEK! A couple of months back at Broken Frontier I took a long at the first Scavengers minicomic from 2022 Broken Frontier 'Six to Watch' artist Sammy Ward. A fantasy story featuring the adventures of Druid the goblin and Wolf the… well, wolf… it was notable for Ward's skilful handling of "silent" comics narrative and her ability to ensure the reader invests in characters through visual characterisation alone. Ward's follow-up Scavengers, Curse of Ymir revisits those characters and their world.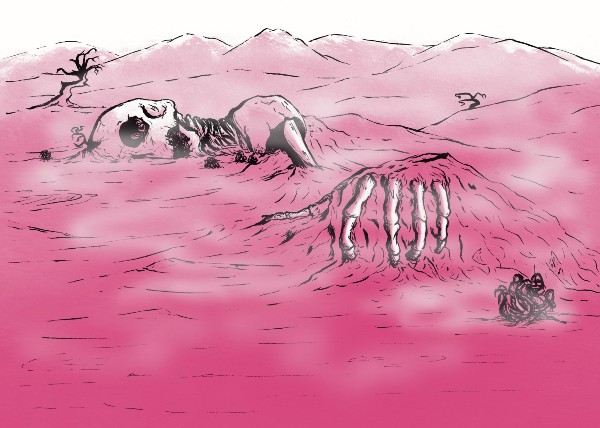 The island of Ymir was created from the corpse of giant fallen warrior, a desolate environment in which Druid and Wolf traverse. In this second, self-contained adventure the duo discover a strange mist encroaching upon the land, one that seems to taint everything it comes into contact with. Following its trail, the pair find themselves confronting an ancient serpentine evil as mysterious forces look to cleanse Ymir in the most dramatic of fashions…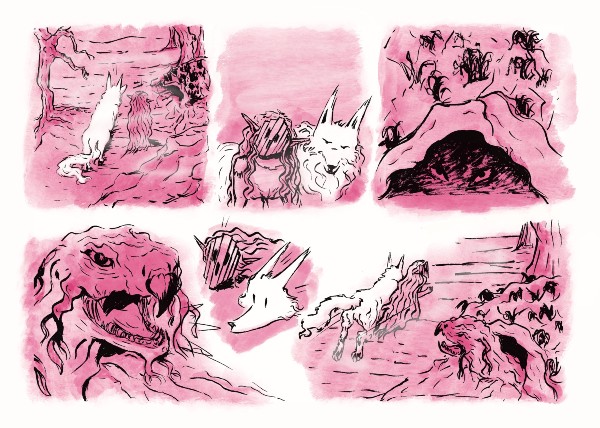 What really stands out here is the astonishing development in Ward's storytelling abilities in just the two years since the previous Scavengers comic was published. While that first instalment showed a marked confidence in working in wordless narrative Curse of Ymir is next tier work, with character design, visual characterisation and panel-to-panel flow all combining to give the reader a remarkable insight into the strengths of arguably the purest form of comics. Ward engenders our empathy with her characters through quieter, poignant moments that act as interludes between impressively rendered action sequences.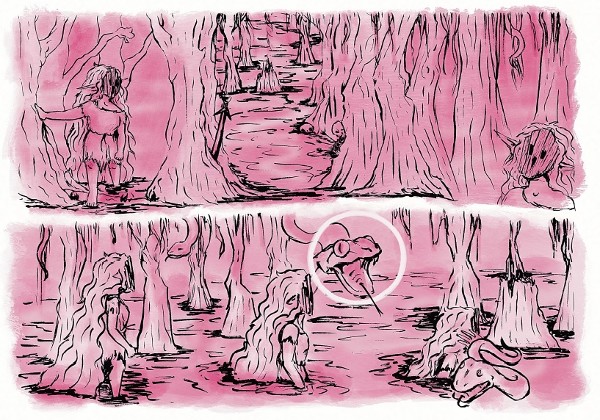 The pink colouring that permeates almost all of the comic's pages casts an eerie light on the world of Ymir with Ward's panels shifting and metamorphosing to suit the events they are depicting with a loose and mutable pliability; sometimes fitting the form of the characters they are focussing on or sometimes allowing characters to move across single images. As I have said before at BF there is a particular skillset needed to successfully pull off a wordless comics narrative. Scavengers, Curse of Ymir is a masterclass in that technique.
Sammy Ward • Self-published
Visit Sammy Ward's online store here
Review by Andy Oliver
Sammy Ward is at Table 22 at the South London Comic and Zine Fair this Sunday July 10th.