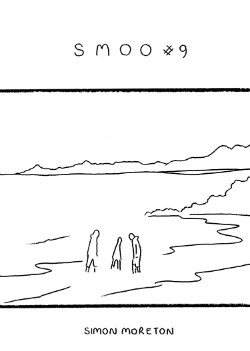 Available at CECAF!
Simon Moreton's Smoo Comics reappeared earlier this year – after around an 18-month hiatus – with an eighth issue that I described here in this column as "one of his most formidable offerings yet – a year of turbulence potently and unforgettably encapsulated in sequential shorthand." Smoo #8 presented a number of interconnected shorts that shed light on the absence of the comic during that period, all brought to melancholic life with Moreton's signature evocative minimalism. Intriguingly, Smoo #9 sees Moreton pushing his usual narrative boundaries further with a complementary mix of comics and interweaving prose.
Where #8 had an overarching storyline – if that's an appropriate word to use for work that is formed from personal history – #9 returns with a selection of isolated moments that are more thematically than directly linked; yet also seem a natural progression from that previous offering. It's Moreton's use of text sections, though, that adds a new dimension to the usual reflective nature of this title, underlining the appropriateness of the label of "zine" that he applies to Smoo Comics.
In some ways it's a quantum shift in storytelling terms from a creator whose work usually invites the reader to take their own meaning from its pages. What the prose offerings do retain in their own way, however, is Moreton's skilful ability to speak to his audience on a shared emotional level – to engender, as he always does, empathic feelings based on similar life experiences.
The first of these text entries deals with feelings of awkwardness and helplessness at the funeral of a friend's father while the second, set some months before, describes a drunken early hours moment of despairing contemplation during a particularly difficult period of Moreton's life (one imagines this to be set at some point during the events of #8).
There's an understated dark wit to the first piece that underlines the sense of impotence surrounding that bleakest rite of passage, while the follow-up has a raw honesty that is captivating in its openness. But it's Moreton's command of the page even in these written passages that most impresses – the timing, the pacing, the impact as he breaks up paragraphs across pages to evoke an emotional response from  the audience is sublime in its delivery. The rhythm and cadence of his use of language makes me hope that we see more of this from him either in Smoo or in other projects in the future.
Of the comics material the two-pager 'Doubt' is pure Moreton, inviting the viewer to engage with his succinctly despondent thoughts on what he has achieved in life by applying it to their own existences. 'Falmouth' – detailing a day out by the sea – and 'Mum's 60' both encapsulate the essence of vital moments with short narratives that may seem inconsequential in the greater scheme but in these trapped bubbles of time on the page they become loaded with resonance and significance.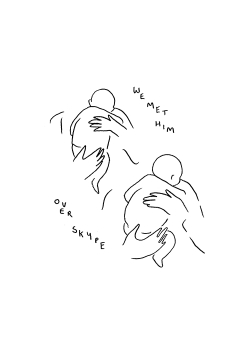 Perhaps the most effective moment in all of Smoo Comics #9, however, is the two-page 'Joe'. It places a scan of a recipe for fruit salad written by Moreton and his brother 27 years ago on one side of a page and illustrations of his brother's baby son being introduced to the family via Skype on the following one. A simple turn of a page traversing the decades and giving a solid reminder of this particular creator's ever brilliant manipulation of the tactile element of the form.
The final story 'Growth' is set on the local allotment and utilises those psychogeographical overtones that are an intrinsic part of Smoo Comics. It's a seven-pager that poses questions of perspective in both a literal and a philosophical sense and a quintessential example of that side of Moreton's oeuvre.
With two issues in just a few short months, and that upcoming longer-form work Plans We Made from Simon/Grimalkin Press coming up, this is proving to already be a pivotal year for this vitally important voice in UK self-publishing. Those wishing to investigate further may want to take a look at the subscription offer on his website (details below). If you're attending this year's CECAF, however, you have an opportunity in just over two weeks to meet the artist in person…
For more on the work of Simon Moreton visit his site here and his online store here. You can also follow him on Twitter here.
Simon will also be tabling at the Crouch End Comic Art Festival on June 6th. 
For a limited time Simon is offering a one-year subscription to his work priced £35.00. Subscribers will receive:
new issues of his autobiographical comic zine, SMOO*
other zines of comics, writing, and drawing
original artwork
letters
other stuff
Full details on his site here.
For regular updates on all things small press follow Andy Oliver on Twitter here.