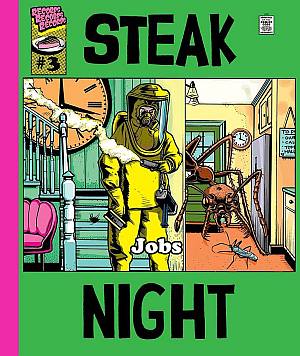 Career-conscious overachievers need not apply! With its themed subtitle 'Jobs', and its gleefully cynical approach to the world of work, the latest Steak Night anthology from the team at Records Records Records is ring-fenced for those for whom the world of employment is a daily ritual of gloom, despondency and abject humiliation.
No inspiring tales of climbing up the corporate ladder or the self-sacrificing thrill of job satisfaction here. But if you're looking for a sense of validation – some reassurance that however hideous your workplace is there's always someone, somewhere worse off – then this collection of stories about upselling vibrators, dealing with coffin-based calamities, and cadavers as clients, may just make you re-evaluate the long-term prospects of your current position…
The foreword for this third volume of Steak Night sets an almost sublimely bleak tone from the outset, unafraid to remind the reader of that harshest of realities about the world of employment – for most of us work will always be something we tolerate at best, and endure at worst.  From there we jump straight into Steak Night's compilation of both comics and text pieces, a mix that means its end product has a curious zine-y feel to it. In that respect the handsome hardcover format makes for an intriguingly incongruous method of presentation.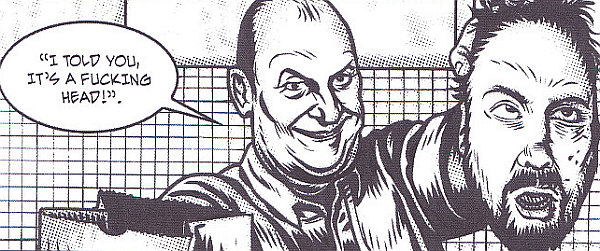 The first comics offering, 'The Butcher' (above), feels like something out of a later issue of Creepy, full of dark dialogue that gives writer Henry Clark's recounting of life working as a "funeral operative" in an undertaker business a mordant bite. The characters who are employed to pick up and transport corpses in this piece have a morbid pragmatism about them and adopt a gallows humour that is resplendently unpleasant in its application (a practical joke involving a severed head is a high or low point depending on your perspective). Tom Hall cleverly walks a fine line on the art duties imbuing some of the more disturbing members of the cast with a fittingly grotesque physicality but always maintaining the visual realism of the piece.

Tom Oldham and Babak Ganjei's 'Big Shot' (above) is the stand-out offering of the comic strip element of the book for me. Oldham adopts a deliciously dry delivery in his anecdote about how he was almost taken under the wing of a seedy sex shop owner as his spiritual apprentice. The dialogue has a kind of squalid sparkle and Ganjei's loose cartooning is a perfect fit for the subject matter, contrasting bewildered youth with a world of sleazy sexual ephemera to great comedic effect.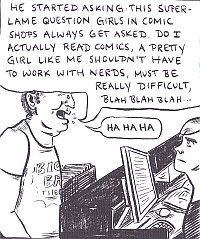 Julia Scheele's 'Sundays at the Comic Shop' (right) is an arch and cutting one-pager that meshes slice-of-life storytelling and absurdist humour with witty results.  I'm not entirely convinced that Florian Lunaire and Eleanor Summers' 'Office Romance' really matches Steak Night #3's "mission statement" but it does work up to a cracking punchline, and Summers' intriguing panel construction and use of shadow and light gives it a moody appeal. There is also something very Nightingales – for those of you who like references to obscure sitcoms – about Peter Cline's 'Small Hours Dept.'
Of the text pieces the highlights include Victoria Manifold's 'Keyser Soze' – an  account of workplace lethargy that does an excellent job of making you feel slightly ashamed to root for its slacker protagonist; her apathy inexplicably evoking your empathy by the end of its two pages. The themes of 'The Butcher' are echoed by Wallis Eates who contributes an illustrated text piece later in the book that includes a brief write-up on her time working as a mortuary attendant. Unfortunately we barely get more than a taster for her style here but it's enough to inspire an interest in checking out her work further.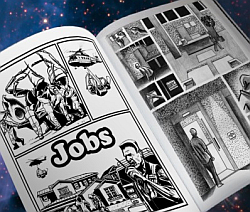 Harriet Gibsone's 'Big Interview?' gives some delectably inappropriate advice for psychologically preparing for the rituals of that important day but it's Matt Tong's 'The Worst Bad Egg' that I suspect will get the majority of the revisits from Steak Night's readership. A gloriously depressing inventory of bad job stories that run the gauntlet from hospital laundry to pizza delivery, somehow simultaneously both blissfully laidback and incisively caustic in tenor.
Steak Night #3 has a raw energy and an uncompromising honesty that makes it an appealingly candid read. A group therapy session for the jaded and the resigned that invites us not just to embrace worldweariness about employment but to proudly wear it as a badge of honour in the workplace. Why not combine it with Elizabeth Querstret's Enter My Working World (reviewed here at Broken Frontier) for a suitably themed familiar double header of comics working woe…?
Steak Night #3 is available from the Records Records Records site here priced £12.99. Follow Records Records Records on Twitter here and like the Steak Night page on Facebook here.