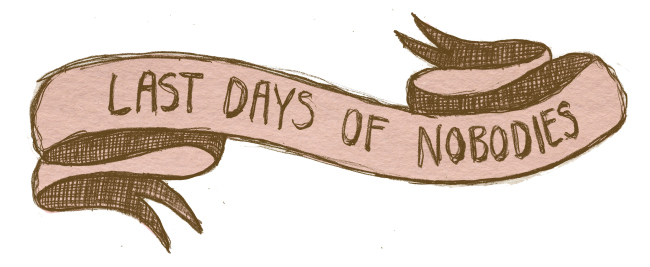 Free comics! It's hardly a difficult proposition is it? Here's our monthly spotlight on accessible online work covering creators who have appeared in 'Small Pressganged' in the past at Broken Frontier. Once again – read, enjoy, bookmark and, if you like what you see, why not head over to the relevant artists' online stores and investigate their print comics further?
Last Days of Nobodies – Mike Medaglia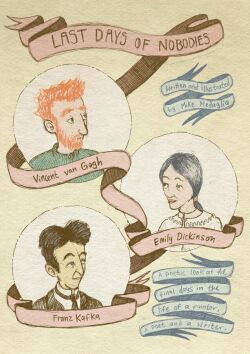 With a critically-acclaimed anthology under his belt, a place on the longlist for the Myriad First Graphic Novel Competition this year, and a couple of entries in this column's very own 2013 'Ten UK Small Press Comics You Need to Own' edition, it seems painfully redundant to say that Mike Medaglia is a creator to watch on the UK small press scene. Mike's projects have been reviewed in 'Small Pressganged' on a number  of occasions including the spiritual comics multi-creator collaboration Wu Wei, Seasons from Avery Hill Publishing, and as a part of the collective that is The Comix Reader.
Launching today, Mike's new webcomic project is titled Last Days of Nobodies and looks at a trio of artistic voices who went largely unnoticed in their own lifetimes: Emily Dickinson, Vincent Van Gogh and Franz Kafka. I had the privilege of having an advance peek at the comic and it's another beautifully paced example of Medaglia's pensive and meditative narratives that are always worthy of your time – delicately constructed and reflective in delivery.
Looking to be as much an exploration of the process of creating – and the motivations behind it – as an essay on the creators themselves, we are promised that this is a webcomic that will also make us think about the possibilities of the comics form itself. That's no idle boast – it's immediately apparent from the opening pages that deal with Vincent Van Gogh that this is a project that is determined to exploit the storytelling possibilities unique to this form.
The press release details are below:
'I'm nobody, who are you? Are you nobody too?' ~ Emily Dickinson
Last Days Of Nobodies is a new web-comic by Mike Medaglia. It will be told in three parts and will look at the days leading up to the deaths of three artists who were little known in their time. The stories will take a more poetic form rather than a straight narrative and will be as much an exploration of what comics can do visually. Drawn in pencil with digital colour and loose scratchy line work. Each part will be around 30 pages and will be released online in regular installments over the next year. It will be updated every other Wednesday.
Part 1 centres around Vincent van Gogh, one of the most famous painters who had very little success during his lifetime. He tragically took his own life in his late thirties. Part 2 will be about Emily Dickinson, a poet from the end of the 19th century. She was a recluse and only published a handful of poems anonymously while alive. Her dying wish was for her sister to burn all her poetry. Part 3 is about Franz Kafka whose day job gave him very little time to focus on his writing, yet he worked every chance he had. On his deathbed in an asylum he was still editing a manuscript. He too asked for his unpublished work to be burnt after his death.
This comic aims to understand why these artists did what they did, with such vigor and force, even if no one was looking. It celebrates art for art's sake. That is why it is being presented as a web-comic: it is an experiment in comics form at the intersection of art, poetry, and pencil. Mike Medaglia is a comics artist and illustrator. His first book 'Seasons' was published by Avery Hill Publishing, and was named one of the top ten small press comics of 2013 by Broken Frontier. He is the editor of Wu Wei: A Spiritual Comics Anthology and draws a weekly blog called Meditations Illustrated where he adapts inspirational quotes into fullpage illustrations.
Read Last Days of Nobodies here. You can visit Mike's online store here and follow him on Twitter here. 
Scotland Holiday Comic – Katriona Chapman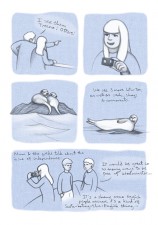 Katriona Chapman's ability to subtly capture the beauty of nature has been noted in this column on a number of occasions in the past. Her account of a family of urban foxes living at the end of her garden was meticulously observed in the gorgeously tactile Brockley Foxtrot, and her short comic strip 'Walking to the Kishorn Islands' in the first issue of Tiny Pencil I praised here as "demonstrative of that keen eye she has for underlining the fragility of our relationship with the natural world".
This month Katriona posted a five-part comic on her blog detailing her recent holiday in Scotland. Like all the best autobio comics it's been created as much for its writer as it has been for an audience and, as such, it's a wonderful combination of the tiny, inconsequential but vital moments of life with the grandeur of landscape and environment. She may have chosen a colour palette of frosty blues but, as ever, there's something warm and inviting about her visuals throughout. There's also an accompanying short video to go with the comic below. Well worth a lunchbreak read!
Check out Katriona Chapman's Scotland Comic on her blog here. You can visit her online store here and follow her on Twitter here.
Fabtoons – Francesca Cassavetti
One of the great failings of this column is that, to date, I have only ever covered the work of such an important mainstay of the UK small press scene as Francesca Cassavetti in terms of her contributions to anthologies. That will have to remedied in the very near future. I'm going to compound that guilt now by allowing self-interest to hold me in its sway and primarily link to a lovely cartoon account of last Friday's Myriad First Graphic Novel Competition event at the British Library of which Francesca was one of the six shortlisted finalists and I was one of the judging panel. Her blog is full of witty observational diary style cartoons and sketches, however, and absolutely worth the half a second it will take you to bookmark it!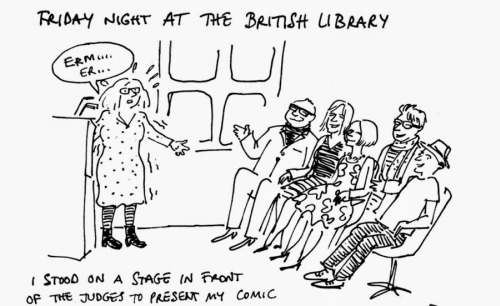 Visit Francesca's blog here. You can also find her online store here.