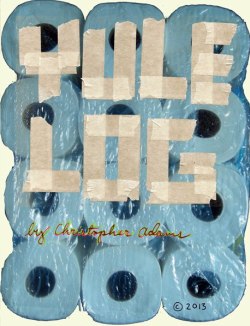 The triumphant rise of both the micropublisher and the small press collective as viable models for distributing and nurturing new talent has been one of the most exciting developments in the type of work I have been covering in this column through 2013. On the U.S. scene I've particularly enjoyed the altcomics sensibilities of outfits like Yeti Press, Yam Books, Oily Comics, Retrofit and 2D Cloud this year; the latter being responsible for the excellent newspaper format Deep in the Woods with eerie stories from Noah Van Sciver and Nic Breutzen (reviewed here in the summer at BF). The material they all put out has a deeply personal honesty and a purity of creative vision that is uncompromised in its delivery.
The latest batch of books from 2D Cloud includes Christopher Adams's haunting Christmas short Yule Log. Beginning with a last minute holiday flight as passengers, including a festively dressed Santa, prepare for the season it quickly shifts from cheery celebration to a mood that is far more disquieting in tone. There's something rather cosy in the opening pages on the plane. Optimism and anticipation abound as families anticipate the merriment to come; their good spirits and sense of hopefulness embodied in the warm colours that Adams utilises in this brief segment.
A jarring transition to shadowy, blurred black and white, however, implies disaster has struck for the plane mid-flight, and when the tale finally comes back into defined focus we find our Santa passenger lying dazed and disoriented in the wilderness his transport has crashed into. From here we will follow his bewildered attempts to come to terms with his situation; a silent journey that will combine the magic of the natural world with an ironic festive twist at its conclusion…
Adams's storytelling is deliberately obscure in places and he's certainly a proponent of the Douglas Noble school of narrative process that advocates making the reader work a little to take their own meaning from the story.  I'll leave it to individual members of the book's audience, then, as to whether Yule Log is about the durability of the Christmas spirit or simply a self-consciously wandering sequence of random moments with a seasonal theme. What is more lucid, though, is Adams's quite hypnotic use of the page to involve his readers in his protagonist's plight.
His use of perspective, for example, to emphasise the isolation of the environment that "Santa" finds himself in is only equalled by the tight sprawling panels that underline his sense of confusion and bemusement on waking up there. Indeed, it's his ability to immerse us in the perceptual befuddlement of our perplexed central character that raises Yule Log from an intriguing but ambiguous curiosity to a more substantial and empathetic reading experience. Without a doubt a creator to watch, then, so I'm pleased to say there's more Christopher Adams 'Small Pressganged' coverage coming up in the new year…
Yule Log is available from 2D Cloud here priced $5.00. For more on the work of Christopher Adams click here.