With its kaleidoscopic manipulation of colour and deft exploitation/juxtaposition of the free form and the symmetrical, Jesse Jacobs' Crawl Space is a remarkable celebration of the unique storytelling properties of the form. Jacobs has proved to be an artist adept at creating fictional realities with their own bizarre and yet logical structures in the past; his Safari Honeymoon, also from Koyama Press, being a strong example of that. In that regard Crawl Space is a book that transcends traditional narrative to become a tale told as much by shape and structure as it is by theme or exposition.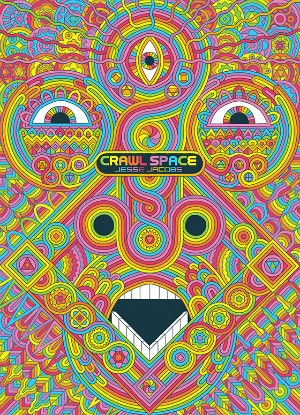 Daisy and Jeanne-Claude have a secret that underpins the bonds of their friendship. In the dark recesses of the basement of Daisy's house there's a portal to a fantastic otherworldly dimension of polychromatic, psychedelic life. It's a land where perception is a gradual learning experience and not a given, and where a rainbow hue-inspired ecosystem is home to teapot creatures, troll beings and occasionally more malicious entities.
As the friends explore this strange reality they discover they are becoming shaped by its influence. But their relationship will soon become tested as Jeanne-Claude begins to introduce more and more of their schoolfriends and peers to its marvels, and Daisy starts to question just how genuine her newfound popularity really is…
Part adolescent coming-of-age story and part abstract, surreal extravaganza, Crawl Space is a multi-layered visual triumph that rewards constant and dedicated revisitation. Jacobs alternates between silent, carefully constructed sequences depicting life in the hidden world with Daisy and Jeanne-Claude's story, allowing us to both rationalise and make sense of this alien environment on our own and as the characters experience it (with the resulting changes it has on their own forms and "physicality"). New states of being and consciousness are evoked though Jacobs' use of colour, space and motion, with the mundanity of the "real" world harshly contrasted in stark black and white.
But, as much as their trippy journeys affect Daisy and Jeanne-Claude, so too do the constant incursions into (and appropriations from) their side of the portal begin to compromise and influence the denizens of that location. The same storytelling techniques – those that originally expressed a sense of awe and disorientation – eventually give way to portraying the other world's corruption as it becomes hostile and nightmarish instead. Crawl Space also embodies a different kind of panel-to-panel storytelling where movement can be followed between the panels but the why is often left to the readers' imaginations.
This is a book that invites us to dwell on questions of identity, perception and self-definition with its own distinctively idiosyncratic approach. But Crawl Space is also a graphic essay on the realities of interpersonal relationships, on growing up, and on learning the hard way that some friendships are a feigned matter of convenience. Those lessons are learned the hard way as the almost hallucinogenic properties of the alternate dimension crash head on with rampant teenage irresponsibility.
Crawl Space ends on a poignant note – one that the reader can take their own meaning from – but the greatest achievement of this book remains Jacobs' brilliant use of comics to express the sensory alienness of an entirely different realm of consciousness. Crawl Space is a book that subverts the conventions of the form yet in the process reminds us of everything that makes the medium so tangibly unique. One of the standout offerings in yet another standout year from the ever essential Koyama Press.
You can find out more about the work of Jesse Jacobs on his website here and follow him on Twitter here.
Safari Honeymoon is published by Koyama Press priced $19.95. For more on the Koyama Press catalogue of books visit their site here. 
For regular updates on all things small press follow Andy Oliver on Twitter here.