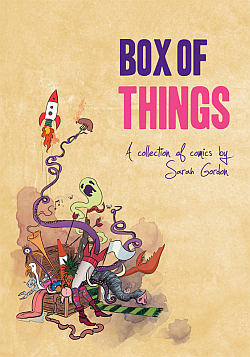 If there's one thing that constantly attracts me to Sarah Gordon's artwork it's its vibrancy and animated energy. That was very much on show in Last Tape in Hell – the minicomic which I reviewed here at Broken Frontier way back in 2012 – and that same wickedly naughty sense of humour permeates the pages of Box of Things, a collection of "short-form comics and surreal interludes" that combines work you may have seen in anthologies like ink + PAPER with bizarre comedy strips and disturbingly haunting imagery.
Humour comics can be a challenge to review given that full analysis of their effectiveness often rests on the dissection of a given punchline that would render the subsequent reading experience pointless to a potential audience. That's very much the case with 'Pirate Radio' (below left), the opening strip in Box of Things which sees the shipwreck-causing Sirens of myth and legend adopting a new workplace philosophy and coming a deserved cropper at the hand of a group of pirates as a result. Gordon's fiendish wit and wily wordplay is on fine form here in this cleverly constructed, tongue-in-cheek, morality play.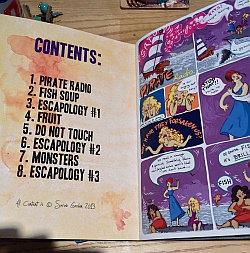 I enjoyed 'Fish Soup' (below left) back when I first encountered it in ink + PAPER and this nightmarish 5-pager of a hungry restaurant-goer's otherworldly experience at the mercy of a bowl of supernatural soup is still a darkly funny absurdist short. It also showcases Gordon's control of the page with a traditional panelled structure to signify the pedestrian mundanity of the real world morphing into a looser, open page set-up as the story progresses and the main character is dragged into a spooky, aquatic elsewhere .
Of the more fleeting material 'Do Not Touch:' (below right) – a visual list of things one should keep one's paws off – was particularly good value, beginning with the sensible advice about upturned drawing pins and poisonous mushrooms before gradually getting ever more ludicrous as hamster grenades, attack aubergines and skulls liberally coated in superglue all enter the picture. Likewise,  towards the end of the comic a two-page multi-panelled tale of a couple encountering two hungry shadow monsters is a sublimely paced piece of storyboarding; the kind of work that could easily make the transition from comics to animation.
Like all such compilations– as I noted when reviewing Jaime Huxtable's Jammo and Julia Scheele's I Don't Like My Hair Neat recently – the collection of often disparate work in one place does mean there can be a slightly disjointed feel to what essentially equates to a minicomics portfolio. If you want to see further examples of Gordon's style, though, you can't go wrong with her The Monster UN web series. Similarly, the glorious self-indulgent cynicism of Sad Pictures to Colour In – a spoof children's colouring book with images like 'Pigeon with toes missing' or 'Accidentally stepping on snails' to add your personal choice of hues to – is further evidence of the gleeful gusto with which Gordon can embrace the morbid and the melancholic.
Sarah Gordon isn't as prolific as some of her contemporaries on the UK small press circuit but, regardless of that, I've long felt she's an unsung talent who is due a far greater spotlight on her work than she's had to date. Box of Things is the ideal intro to her gleefully madcap imagination, fluid artistic approach, and eyecatching use of colour.
For more on Sarah Gordon's work visit her website here. You can buy Box of Things priced £4.00 and Sad Pictures to Colour In priced £6.50 from her online store here.
For regular updates on all things small press follow Andy Oliver on Twitter here.