A COMICA FESTIVAL TIE-IN!
Please note that, sadly, the autumn Comiket has now been postponed until Spring 2015.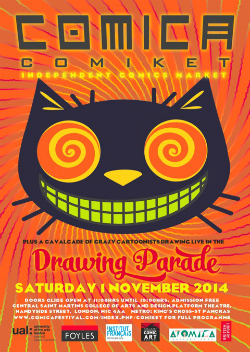 Comica Festival's twice-yearly Comiket independent comics fair returns to Central Saint Martins next month on November 1st  with its usual eclectic mix of respected UK indie publishers, top small press practitioners and exciting new talent. Since I first ventured nervously into one of the Bishopsgate Institute incarnations of the show – with the intention of tentatively introducing myself to some of the creators I'd been writing about in those early days of 'Small Pressganged'– I've encountered a whole host of exciting new creative voices via Comiket's tables. Artists whose work I undoubtedly may otherwise have missed.
It was Comiket that introduced me to the work of Isabel Greenberg in those heady pre-The Encyclopedia of Early Earth days for example, and without this particular Comica event would I ever have come across my favourite small press book to have been covered in this column to date? (Rebecca Bagley's superb self-published comic Tick if you're the one reader to have somehow missed my constant cheerleading over the years!). Jazz Greenhill – whose The Festival from Avery Hill was published last year – is another solid case in point. When I picked up one of her early minicomics at Comiket it was an obvious indication of greater things to come. Likewise the painstakingly haunting work of Alex Brady (Ordinary Street and Ex Libris: A Collection of Unusual Historical Deaths).
Rebecca Bagley's 'Tick', Alex Brady's 'Ex Libris', and Isabel Greenberg's Barnum zine
In fact, virtually every Comiket I have attended has led to me unearthing another gem of the small press – to paraphrase this column's one-time tagline – or to find further comics from creators whose contributions to anthologies marked them out as people to watch. At the last Central Saint Martins Comiket it was the minimalist zines of Abbey Massey (One Day Only and A Long Walk), the eerie allegory of Katie Craven  (Angus and Felix), and the beautifully crafted visuals of Emmy Raby whose work I had long admired from the pages of Donya Todd's Bimba anthology.
Interior pages from work by Abbey Massey, Katie Craven and Emma Raby
With that sense of discovery in mind, and with the next Comiket fast approaching, it seems appropriate to link today to this "fan-made" Comiket video by Heri Mkocha which, from personal memory of where the exhibitors are all placed, must have been shot at the April 2013 show. The eagle-eyed will spot a number of creators to have been featured at Broken Frontier over the years including Owen Pomery, Elliot Baggott, Alex Brady, Cristian Ortiz, Anaseed Man, Douglas Noble, Richy K. Chandler, Becky Bagley with Isabel Greenberg, and many others. It  gives an excellent overview of that sense of friendly and comfortable interaction between creators and punters at Comiket, the spacious location at CSM and, of course, the ever anticipated antics of the live Drawing Parade!
With 60 exhibitor tables across the Platform Theatre and Foyer Bar at Central Saint Martins on November 1st, and an exhibition of the Observer/Cape/Comica Graphic Short Story Competition to view too, the omens are favourable that I'll be mentioning another new set of freshly uncovered debut comickers to feature in 'Small Pressganged' in just a few short weeks…
https://www.youtube.com/watch?v=lThM211o-gU
Comica Comiket will be held at Central Saint Martins on November 1st. Full details for both attendees and potential exhibitors can be found on the Comica Festival site here.