SLCZF WEEK! Forged in the fires of comics community, the Idiot Corpse crew's first experimental anthology was a fine exercise in exploring the intricacies of the collaborative comics process. I reviewed it here last year at Broken Frontier when I said of its contents "Given that each story is, by definition, the sum of its structural contrivances, the spectacle of their assembly is as much a part of their draw as their narratives." With their appearance at this weekend's South London Comic & Zine Fair imminent I caught up with Aled Lies, Dylan Wyn Owen and Shehzad Ahmad to chat about playing with the mechanics of the medium, collaboration, and their wider solo projects.
ANDY OLIVER: Who makes up the Idiot Corpse collective? Tell us a little bit to begin about yourselves and your wider artistic backgrounds…
SHEHZAD AHMAD: Art school, worked in animation, graphic design, sign-making and illustration.
DYLAN WYN OWEN: After clawing my way through art school I worked as an illustrator and traditional animator (back in the day of animated cereal mascots like Tony the Tiger and the Nesquik Bunny) before getting into VFX for film and television. If I had to single out one project to mention it's Beverley Hills Chihuahua that springs to mind. Not because its necessarily a great film, but because it's got the best title. Coincidentally I'm currently working on a comic book franchise for visualisation studio, The Third Floor Inc. (Sadly it's not Idiot Corpse).
ALED LIES: I also work as a Visual Effects Artist on film and TV.  It's a pretty enjoyable  job but has always felt like I'd been side-tracked from my original plan to make comics.  I've worked on a few of the big superhero films like Avengers: End Game, Ant-Man and Dark Knight Rises and sometimes think to myself 'won't this do?'.  No! it won't, I need to make them.  I've spent about the last 5 years or so getting these plans rolling.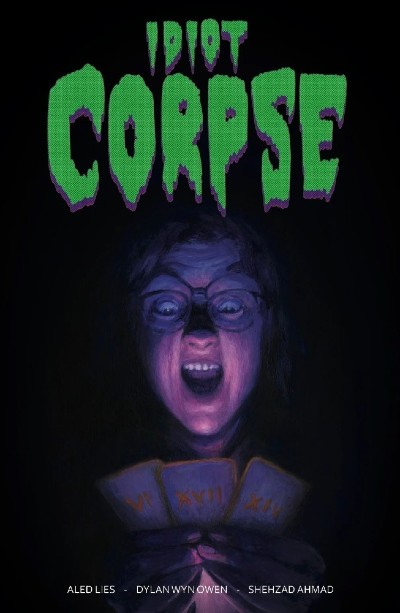 AO: How did the three of you meet and decide to collaborate together on the first Idiot Corpse anthology?
AHMAD: I've known Dylan for around 20 years (27 years!) and met Aled through Dylan. The collab came about during a signing at Gosh!. We were chatting about drawing, making something, self-motivation and the game Exquisite Corpse. All of that and a mutual feeling of how great it would be to buy each other's work from Gosh! Comics. It was Aled, I think, that connected the dots and said we should work together.
OWEN: I met Aled through working in VFX and our shared love for comics only really come up quite some time in to it. Shehzad I also met working at an animation studio, but long enough ago that we were still using pencils.
It's worth mentioning what a hub of creative energy London's renowned Gosh! Comics is. We were there together attending a book launch (shout out to Escape From Bitch Mountain) when Aled's face lit up with the idea we should collaborate on something of our own.
LIES: I'd met Dylan through work and Shehzad through  Dylan. But it was once we all started regularly attending the Gosh!/Broken Frontier Drink and Draw meet-up in pubs in Soho it became clear we all had a similar sensibility and were itching to make something. Once it was suggested we do a project together it instantly felt like 'of course we were gonna do this' and Idiot Corpse started developing very quickly.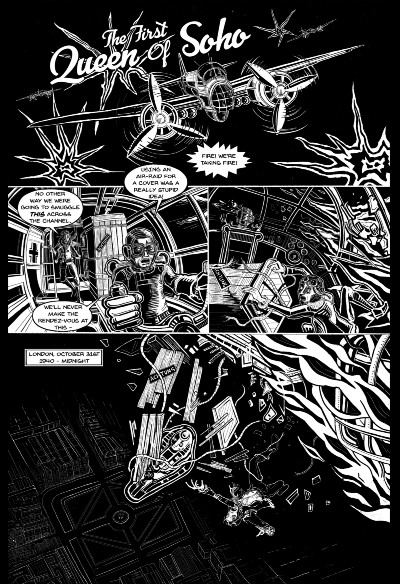 'The First Queen of Soho' written by Dylan Wyn Owen and illustrated by Aled Lies
AO: So the premise of Idiot Corpse is more than a little different. For those who have yet to pick up a copy can you describe its very distinctive approach to narrative experimentation?
LIES: The Drink and Draw nights usually ended with us playing games of 'Exquisite Corpses', passing around folded pieces of paper where players anonymously draw the head, body and legs to reveal the hideous collaborations at the end. We had the idea to try and apply this Exquisite Corpse method to storytelling.
We decided to each write down 8 prompts, mix them up and share them between us. We then privately wrote 8-page comic scripts that had to include the items/events of our prompts. We then switched those scripts between us to draw– only revealing the pages to each other once finished.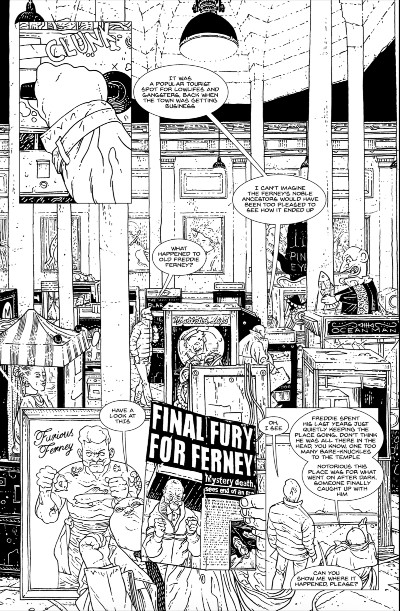 'The Centre of the Earth' by Aled Lies and Shehzad Ahmad
AO: Given the comic's playful storytelling structure what were the logistical challenges to putting it together? Were there any unexpected hurdles to leap as the exercise progressed?
AHMAD: We'd decided early on that once we got our script, we could talk to the writer for clarification but we wouldn't edit any of it. We would draw it as scripted.
Not being able to share our drawing during the process was tough. In most collaborations, seeing each other's output during the process cuts out mistakes and provides encouragement. The thought of drawing for each other was the motivation. Drawing for the moment that we all get to see it, together, for the first time.
OWEN: It was important to us in making Idiot Corpse to try and keep the playful mystery and surprise of a game of Exquisite Corpse (Following the rules set out above by Aled) but at the same time our prospective readers have to be able to pick it up and enjoy three stand-alone stories without having to trouble themselves about our internal game-mechanics unless they wanted to.
We asked a mutual friend (Shout out to Broken Frontier six-to-watch alumnus Joe Stone) to print out a dummy copy of all three stories that we could read together for the first time, but then go back to formatting and editing so that it was fit to print.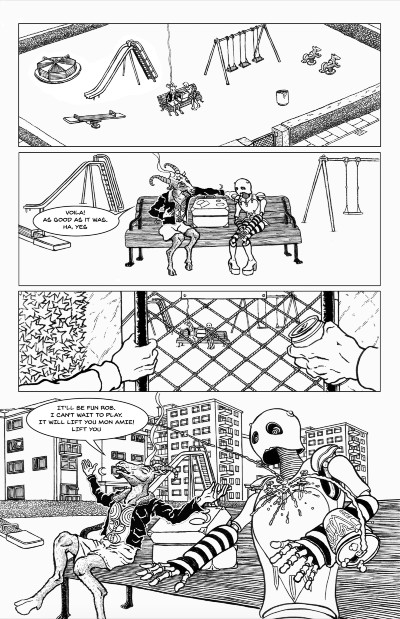 'Foreign' by Shehzad Ahmad and Dylan Wyn Owen
LIES: We wrote the scripts really quickly, within a month. I found having the prompts a useful and fun way to write. But then drawing, hoping to please the writer as well as not destroy the the project, was a lot more time-consuming (the 'idiot' from Idiot Corpse came from a working title of 'you F*cked it up you F*cking Idiot' worrying about this fear).  From inception to print it took us two years to finish.
For a collaborative project it was a lonely process! Since it had to be so secretive we couldn't share anything with each other, no helpful hints or tips, and it took us a while to get into gear. But once we got accepted to exhibit at Thought Bubble 2020 it gave us a deadline we really needed to work towards.
AO: As regular attendees of the Gosh and Broken Frontier Drink and Draw how much fun was it adding a few Easter Eggs for the London small press community into Idiot Corpse #1?
OWEN: It's fair to say that Idiot Corpse wouldn't have come into existence without the Gosh and Broken Frontier Drink and Draw. Those monthly meetings cemented what was to become the Idiot Corpses' working relationship. They also engendered entirely new friendships. The talents on display by the other attendees and guest-artists was never less than inspiring, and crucially it made putting pen to paper a lot of fun! So it was only fitting that some of these nefarious personalities should make a cameo appearance populating a seedy pub basement within the pages of our first comic together (and watch out for a reappearance in issue 2).
LIES: In trying to bring Soho to life for Dylan's script  in 'The First Queen of Soho' I chose the location as the Pizza Express on Dean Street opposite the Nellie Dean – where some of our first Drink and Draws together took place.
As soon as I finished Idiot Corpse I started working on Edgar Wright's Last Night in Soho. The first shot I worked on took place outside the Toucan pub with the Nellie Dean and the Pizza Express in frame.  I thought I'd broken reality.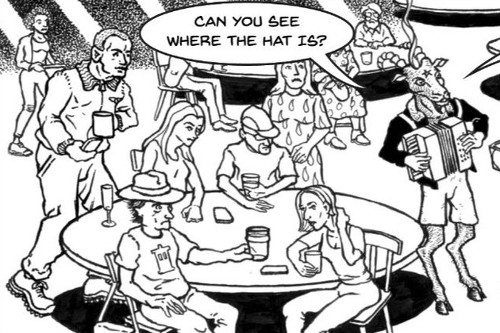 Some familiar faces from the London small press scene in Idiot Corpse #1
AO: Are there any plans for an Idiot Corpse #2? And, if so, will it follow the same format as #1?
AHMAD: Absolutely, everyone's done their scripts and we're drawing up the pages.
LIES: We're using the exact same method but rotating the scripts around to complete the different writer/artist combinations. A couple of extra pages each this time too.
The brilliant J. Webster Sharp, who we met at Thought Bubble last year, has agreed to do the cover so we're very excited for that reveal too.
OWEN: A global pandemic wasn't enough to stop issue #1 of Idiot Corpse reaching its audience and we're determined that nothing up to and including an alien invasion will prevent issue #2 being completed.
AO: In terms of your artistic process what medium do you all work in?
AHMAD: This time round I'm penciling rough layouts at A4. Scan them in, place word balloons onto the pages in Illustrator. That lets me sus out how much drawing space I have in each panel. Print out the layouts with bubbles at A3 and then draw the thing. I'm inking by hand and also using promarkers for some grey tone.
OWEN: I spend my days aa Visual Effects Artist shovelling pixels (imagine filling up a sink with small multi-coloured lego bricks then grinding your face into it repeatedly), so I was determined to work as analogue as possible. I took the fairly traditional route of pencilling then printing out the pencils as blue-line and inking directly onto that. When I was younger and full of vim I would have scratched away for hours at my inks with a dip pen, but a sense of my impending mortality and our deadline encouraged me to the use of brush pens and fine-liners.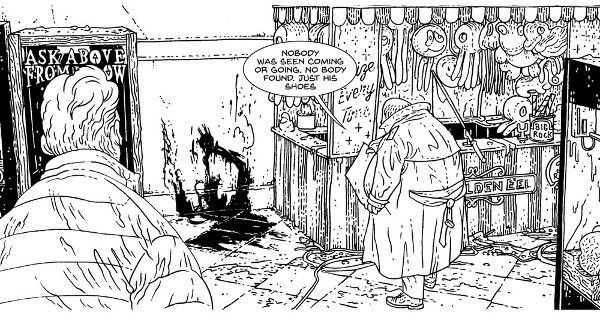 LIES: I started out inking everything by hand using brush pens and fine tips on Bristol Board. But on Idiot Corpse I pencilled on Bristol but then decided to ink digitally in Procreate to save time. I then started experimenting with 3D layouts in Blender and Clip Studio for my comic Marchog Draenog to try to streamline the process of getting pages out fast.
But I think I found that any time I saved on pencilling I ended up just having to do in the inking stage, often zoomed in repeating areas that didn't need it. Also since I work from home I didn't need to be as mobile as I used to. I'm enjoying the feeling of real life inking again, though Procreate is still very useful to me for roughs and Clip Studio for laying out panels.
AO: Aled, last year at BF we reviewed your reality-warping hedgehog comic Marchog Draenog. What new work will you have for us this week at SLCZF?
LIES. I decided to make some zines based around rejected or forgotten comics  I've made to give them a new shot at life. Other Truths pretty much covers my journey into comic making in two small volumes. Just 10 copies of each as a SLCZF exclusive!
Other Truths 01: 'Gitto Peth'  contains the first attempt at a comic I made about 5 years ago. The story had kind of written itself playing out in my head which I then translated to the page by trying to just go with the flow of what came next.  I then inked it all out and then tried to 'Marvel method' with myself at the end to work out the dialogue.But once it was finished it suddenly just felt done, I couldn't work out how to take it further. I thought maybe that was that, I'd moved on and it was a learning experience I'd left behind.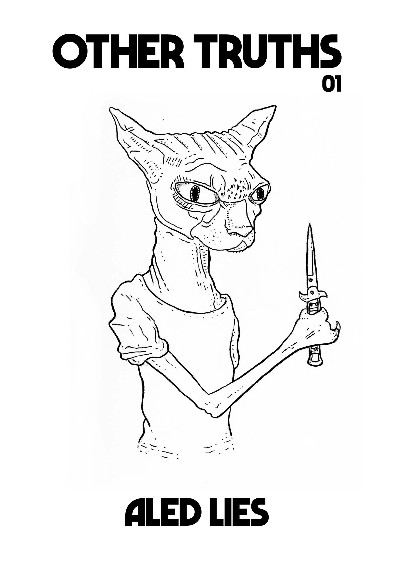 But when I looked at it again recently, without the pressure of it having to be perfect, I now like this dreamlike story that just is what it is. You have to guess what's going on and know about as much as I do.
Other Truths 02: 'Forshaken': since volume 01 got taken up with one long story everything else fits into Volume 02!  It contains two entries I made for the Thought Bubble 2000 AD comic art competition, several sketchbook and Inktober drawings and the short comic 'Bicameral Blues', I made for the first WIP anthology (in a new black and white version). I've home-printed them on this big, refurbished office printer/scanner I  recently got for pretty cheap.
AO: And, finally, are there any other comics projects you're all working on that you can tell us about?
AHMAD: I'm working on a couple of short comics and a thing of sketchbook bits.
OWEN: I am, by any stretch of Newtonian physics, the slowest artist in Idiot Corpse, so that's all I'll be working on until it's finished.
I've got a few stories tucked away in drawers that I'd like to illustrate, but there's a moral to that tale: years ago I wrote a story and put it away thinking 'I'll draw that one day, I think it might be fun'. It was a story about Big Brother contestants trapped in the house during a zombie invasion. How surprised was I then, to switch on the TV a couple of years later and see a trailer for Charlie Brooker's Dead Set. So to anyone else, whatever you've got, get it out there.
LIES: I've just finished writing a story provisionally titled  'Gitto Peth 1096' that is kind of a 30-page sequel to the 'Bicameral Blues' story included in Other Truths 02 that connects to some strings of  'Gitto Peth' in Other Truths 01.  Everything is folding together/collapsing in on itself.
It features angels, turnips, a pig, Normans, alchemy, homunculi and a medieval cinema. I hope to have it finished over the summer and ready for Thought Bubble in November.
Visit the Idiot Corpse store here
Review by Andy Oliver
Idiot Corpse are at Table 34 at the South London Comic and Zine Fair this Sunday July 10th.