BROKEN FRONTIER AT 20! It's an amazing thing to be there at the beginning of an ongoing comics journey that leads to ever more exciting destinations. We have been following the progress of Avery Hill Publishing since their very first all-comics project Reads back in 2012 and watched as they have grown from three enthusiastic chaps with a table and a handful of zines to the renowned indie publishing force they are today. Today to celebrate a decade of multi Broken Frontier Award-winning Avery Hill we have a very special interview piece. A couple of weeks back I caught up with co-founder Ricky Miller on Zoom to chat about the last ten years and discuss ten landmark books they published in that time…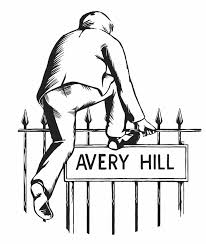 ANDY OLIVER: The first thing I wanted to ask… because obviously this is going to be a bit like choosing between your favourite children… is what where your criteria for picking these 10 books as landmark releases for Avery Hill Publishing?
RICKY MILLER: Yes, sure. It's definitely not about trying to pick favourites or anything like that. It was more about periods of time. Some of the books represent a leap forward, or it's the book itself as some of them are key in themselves in a particular way.
AO: Yes, this list really brought back some key moments in your history for me.
MILLER: Yeah… I'm a perpetual list maker anyway. I'm always making top ten lists of things in my head. I'm that guy. But I don't inflict it on people generally! The idea of doing one of my favourite ten Avery Hill books does appeal to me greatly but I know I can't actually do it… [both laugh]
AO: Yes when I was reading through this it brought back memories of launches, exhibitions, things like the Avery Hill Summer Party at Orbital in 2014 which seemed like a really big moment at the time, and things like the British Comic Awards.
READS Volume 1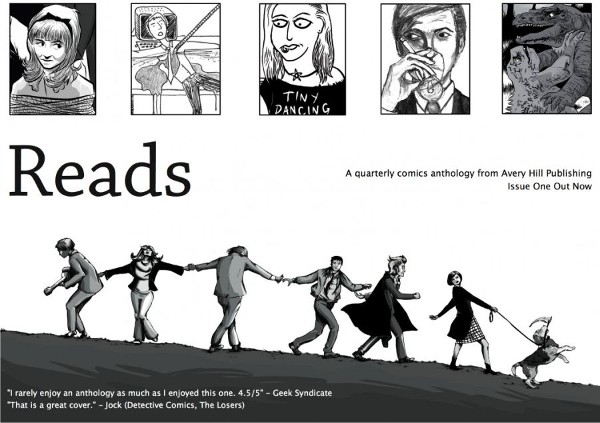 Read our Broken Frontier review here
AO: So let's go right back to the very beginning and the first book you've chosen, your first comics anthology Reads Vol. 1 which I guess technically wasn't your first foray into comics because you'd been publishing them in the arts zine Tiny Dancing.
MILLER: Yes we had but this was the first comic we published after we formed the limited company. Dave [White, AHP co-founder] had been publishing Tiny Dancing and Michael Gosden [original AHP co-founder] and I had been helping contributing and helping with the publishing as well. The first act of the company was that we would keep the humour stuff, the more arty stuff, and the text stuff in Tiny Dancing and break out the comics stuff into their own thing. Partly because of marketing and retail I guess because there were a lot of comics shops that wouldn't stock Tiny Dancing as it was more of a zine, whereas they were happier to stock Reads. Well… I say that… there were probably only about two or three anyway… It seemed like and easier sell plus Tiny Dancing was very much Dave's thing and I wanted my own publication to curate. Dave kept Tiny Dancing and Michael did Fronts, a zine which only lasted one issue but is probably up there with some of the best stuff we've done to be honest.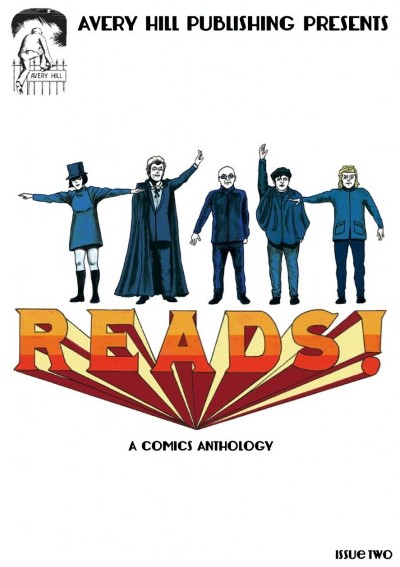 AO: How did you go about curating the Reads anthology? Because there's some very early work from some key people in it isn't there?
MILLER: Yeah. A lot of the people I inherited from Tiny Dancing. Tim Bird had done some stuff for it, Steven Horry, and Michael. It was kind of a natural switch-across mostly.
AO: I found this little pull quote from my very first Avery Hill review at BF where I called it "an unpredictable melting pot of creative techniques and subject matter" [both laugh] which I quite like.
MILLER: I mean that could still define us now really.
AO: Yes there is definitely shelf life in my pull quotes.
MILLER: Yes [laughs].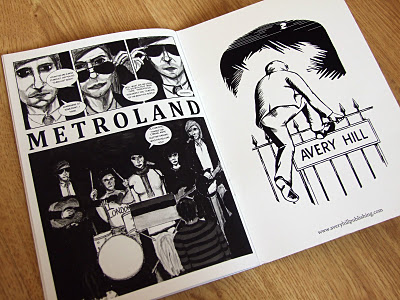 AO: There are things that people might not remember now but you were still drawing Metroland in Reads weren't you?
MILLER: Yeah I drew it until Jules Scheele took over with Metroland #1. Part of the enjoyment then was drawing it. And the cover by Becky Strickson which was a very nice cover. Becky also designed the logo. And I remember we took Reads #1 to our first Thought Bubble and we thought we need to take hundreds. I think we sold two all weekend but one of those was to Jock, the 2000 AD and Batman artist, and he called it a great cover so we used that in all of our marketing. Just put "A great cover – Jock" on social media.
Days by Simon Moreton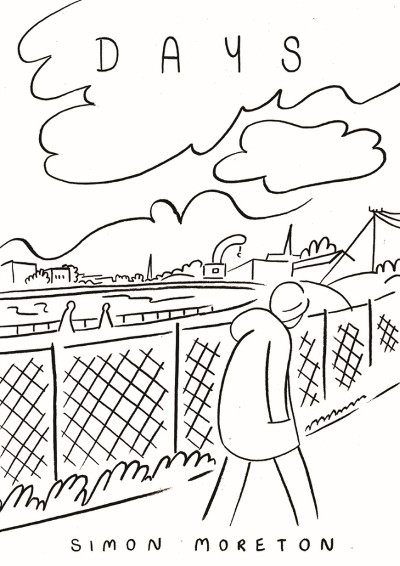 Read our Broken Frontier review here
AO: The second book on the list is Days which collected Simon Moreton's autobio work from Smoo Comics mainly but also Bear Pit, kus! comics and Tiny Dancing. Talk us through that one becoming part of the AHP line-up. Was that more a Dave choice?
MILLER: So to explain how we work we both run with our own projects but we just have to agree we're going to make it and then one of us will project-manage/edit. Most of the time we'll hardly see any of the other one's books until the proofreading stage and at that point we'll get a PDF and both read for edits. It was one of Dave's projects and it's on here because it represents both that big Avery Hill Summer Party launch at Orbital where we released Reads Vol. 2, The Beginner's Guide to Being Outside by Gill Hatcher, Metroland and Days. It's there to represent that time and it's also the first "big" book we did. Our move from 20-30 page zines to the graphic novel arena before we could actually distribute graphic novels! We didn't have a distributor at the time so there were copies in our bedrooms to take to shows. And also the fact that Simon took us seriously enough to do a book with us because he was definitely one of the names on the scene at the time.
AO: Yes he was building up a real profile at the time. Not just as a creator but as an organiser as well.
MILLER: Yes the Bristol Comic and Zine Fair. We used to sell bundles at that. Far more on that one day than we would do on a Thought Bubble day. I feel like it was Simon's first collection. I could be wrong because he's worked with some very big publishers but I feel like it was his first big collection. So yes we were very pleased to be able to put out some of Simon's work.
AO: Yes and Simon's practice has evolved so much that it's nice to have a collection that reflects that period of his output. It's a book I certainly return to a lot.
Grey Area #3: From the City to the Sea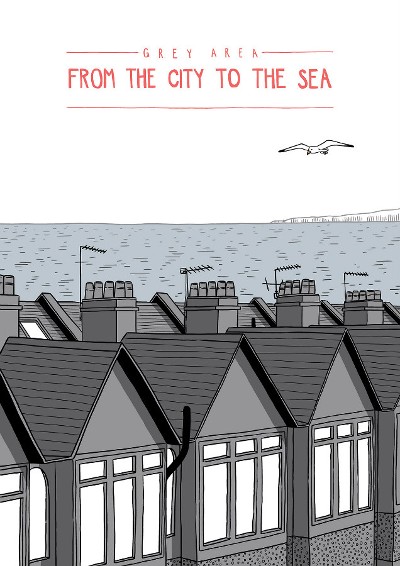 Read the Broken Frontier review here
AO: Apart from Tim Bird being such a big part of your output over the years I have no doubt there's also another landmark reason for this being on the list. And that would be it winning the British Comic Award in 2015 for Best Comic.
MILLER: Yeah the British Comic Award felt like a really big deal at the time.
AO: Yes there was an affection for those awards. That was the year I was on the shortlisting committee and I think enough years have gone by for me to say it was high on my shortlist. I was surprised when it won to be honest. Not obviously on quality grounds because it was excellent and a worthy winner but because the next judging stage was, I think, 4-5 celebrity judges and just one actual comics person and I imagined they'd go for something more commercial and mainstream. So I was absolutely delighted when it won because for me that was when Tim's work went from interesting psychogeographical comics to work that totally embraced the idea of doing things that only comics can.
MILLER: Definitely. If I was doing a list of our top ten comics I'm pretty sure this would be on it. It's just kind of perfect. It's definitely up there and I think the cover might just be the best covers we're ever done. I do love that cover so much!
AO: Tim moved on to doing lots more with you outside of his own minicomics as well.
MILLER: That's why I could not not put a Tim Bird book on here. Because he was with us pretty much from day one. He was contributing to the early Tiny Dancing and has been in every iteration of Reads. And the first comic we published that didn't feature some of our work was the first Grey Area. We did his first full-length book The Great North Wood and hopefully we'll publish him again.
The Rabbit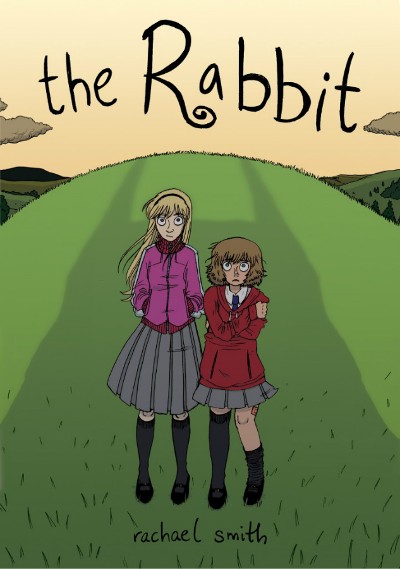 Read the Broken Frontier review here
AO: Now onto Rachael Smith's The Rabbit. This is another case of someone who had an established audience coming off the back of her first graphic novel House Party. This also felt like a statement of intent in terms of publishing some of the most important people in small press comics at the time.
MILLER: Definitely. We'd spoken to Rachael about House Party at the time but didn't end up publishing it but she was on our list of people we wanted to work with. It felt like a step forward in us being taken seriously by some great people and again Rachael is a creator we've gone on to work with again. We took her to TCAF and we enjoy spending time with Rachael. Hopefully we'll publish another book with her. Probably this was the first time I had to act like I was an actual publisher [AO laughs] in terms of the business aspects as Rachael didn't know us personally, and most of the people we published at the time we knew. It took us a while to get our heads round the idea we had created an actual publishing company and not just a fun side project! Rachael had a lot of marketing ideas so we did launch parties in London and Manchester, and a couple of competitions including one for the Gosh! Comics and Broken Frontier Drink and Draw.
AO: Yes I remember that.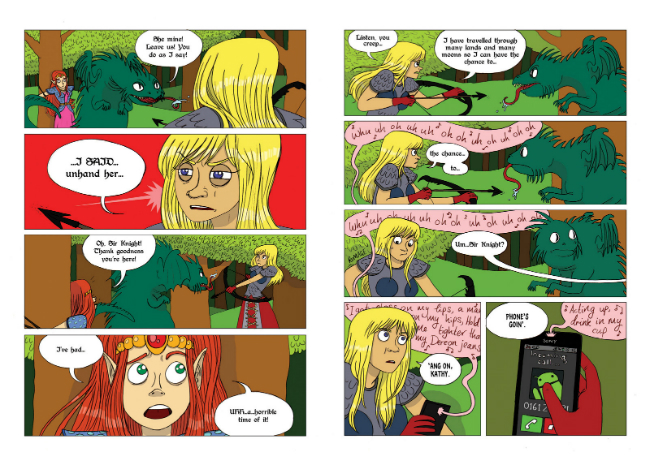 MILLER: When you work with serious people it always helps you to raise your own level. Definiitely helped us at the time.
AO: Rachael's definitely the person I've interviewed the most for Broken Frontier. She's very proactive about coverage which from our end is much appreciated. It seems odd to say but a lot of artists are very reticent about promoting their comics.
MILLER: Well comics isn't known for its extroverts is it? It's nice to come across someone who is going to go out there and actively promote the work. Some of the greatest pleasure I get from comics is seeing our creators go on and do different things. Rachael especially because as much as being a great cartoonist she is a great writer. It's really good to see her going onwards and upwards. No one deserves it more than Rachael.
AO: Yes she's written comics that other people have illustrated recently from Mad Cave and maybe the Planet Divoc-91 project. The Rabbit was interesting as well because she was known for slice-of-life work already but while still a tenderly observed coming-of-age story The Rabbit brought in these grotesque fantasy elements as well. There was a definite throughline from previous work but it also felt like a bit of a departure as well.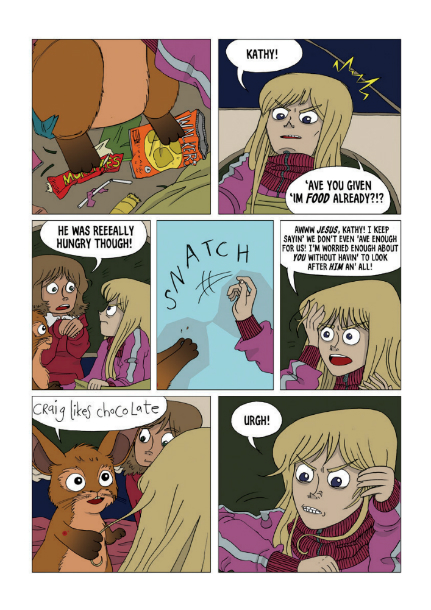 MILLER: Yes and it's come around again as well as there's a band called The Burning Hell who got in touch with Rachael about drawing a comic strip for one of their songs she really liked. They came back and asked about doing a song about The Rabbit…
AO: Oh wow. I didn't know that.
MILLER: Yes we put out a record with the song about The Rabbit and the other song on both sides. This was during the pandemic and we published the comic for that as well. It's a really good song as well!
AO: I'm going to have to hunt that down after this.
I Love this Part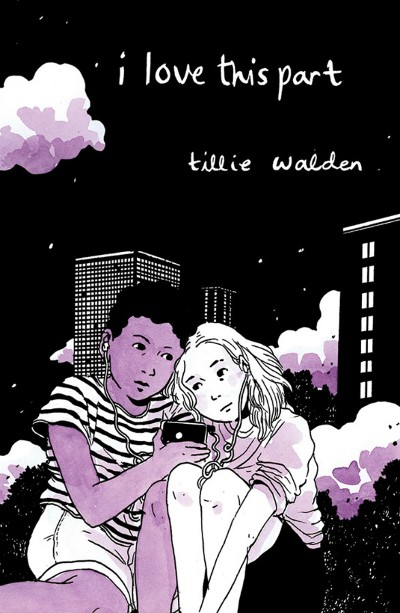 Read our Broken Frontier review here
AO: Now a big one next. The first Tillie Walden book you've chosen is I Love this Part. Why this one, say, over Tillie's first book The End of Summer.
MILLER: The End of Summer was amazing. We thought it was going to be good but it turned out great. I didn't know Tillie at that point so we were conversing over e-mail so the making of that was probably less memorable than The End of Summer. By the time I Love this Part came out we had met and we were friends. I Love this Part we edited over Zoom. She would change stuff while we were talking and it was one of the best experiences editing a book I've ever had. It was just a pleasure to do.
Also I Love this Part is the only time we have been nominated for an Eisner and for me and Dave who, like you, grew up reading comic in the '80s and the '90s the Eisners were as glamorous as the Oscars, even though we never knew anything more than who won and who was nominated. I think it's the only time I ever called Dave with good news. Those were the key things but also that book felt really, really important. Serious people in comics e-mailed us and said you need to look after this book it's really special. To me it's really important because it's someone writing about children who is not too far from their age but also has the skills to make us empathise with them. The great thing about Tillie at that time was that she was so close to her subject matter but could communicate it using techniques that were beyond her age.
AO: Yes of the books you have put out with Tillie that would be the one I would consider the most accessible if I were trying to champion her work to a non-comics reader.
MILLER: It's the emotion she conveys. One of her great talents is making you feel things, even jaded old people like us.
AO: Yes you're not going to leave that book feeling unaffected or blasé, are you?
MILLER: No, and again it was another moment in taking Avery Hill a lot more seriously than I had been. I think it was after that one came out that I stopped drinking as much at shows [laughs] and started taking the business side more seriously. I had a responsibility to get this book out there because of its importance and it was a gateway to getting UK and US distributors. I went to the Comics Creatrix exhibition Tillie was in at House of Illustration. I was introduced to our distributor Turnaround and showed them Tillie's work there. If there's one thing I think I'm good at it's spotting that we've got something and then maximising it. That was a book that opened doors.
Ismyre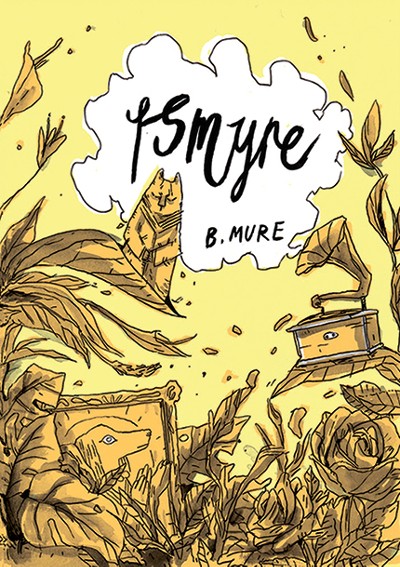 Read our Broken Frontier review here
AO: B.Mure's Ismyre is the next one we have to discuss. Why was this one a landmark?
MILLER: It's by a creator we've worked with a lot and by the end of the Ismyre series we will have published six books. But B also represents the way we used to find creators in the old days. The first zine I bought in Orbital in maybe 2012 was a collection of B's comics. I got in touch with B and commissioned him to do a couple of pin-ups and a back-up strip for Metroland. The work was great so I just kept pestering him to do a book with us and we ended up with Ismyre.
AO: I think it's one of those series that when the whole collection is out people will look back and say "why didn't this have so much more acclaim when it was initially being published?" It's not that it hasn't had really positive reviews already but it's so beautifully illustrated and the fantasy world-building is so remarkable that it deserves far more attention.
MILLER: Yes and its themes of rebellion and social conscience… it's kind of more about that than the plot. I mean I still kind of don't know what the overall plot is (both laugh). There will be a conclusion in the sixth one but it's far more about being in the world. I'm far more interested in worlds and characters than plots and also the colours in this book are incredible. I feel like when we have all six books and think of the collection it will definitely benefit it in terms of getting it into libraries and that kind of thing. But I think it will be when it's collected that it will truly reach its potential.
AO: Yes it's one of those where when you re-read it in a batch you see the links and discover new things. Great stuff.
Follow Me In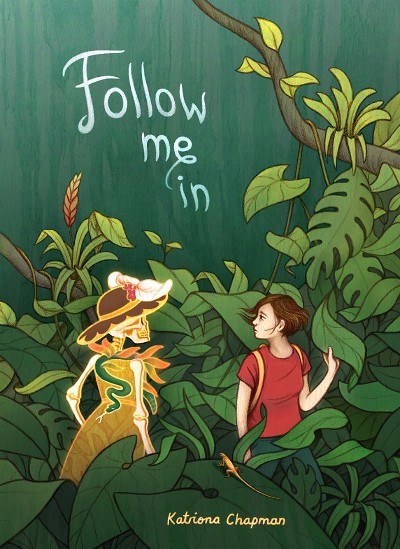 Read our Broken Frontier review here
AO: Katriona Chapman's Follow Me In. I love this because it's a book where the full potential of Kat's work was realised and it builds on the foundations of what came before. Her first full-length book after being such a fixture on the scene. I think I first reviewed her comics way back in 2011 or 12.
MILLER: Yes this is in for a number of reasons. I think it was our first hardback. On a technical level that was a different thing for us so it was very heavy and expensive but benefits from that. And Kat has been a big part of Avery Hill. She's our Head of Marketing and Sales and we couldn't do Avery Hill without Kat. I would have gone nuts by now. She does loads of stuff for me and takes on some of the production stuff now. She liaises with the printers, she starts putting the PDFs together and that kind of thing. She's the heart and soul of Avery Hill and the person people end up speaking to the most quite a lot of the time. So there's that aspect.
Also from an editing point of view. A lot of comics people aren't used to working with an editor and don't want one but some people do and really benefit from it. Me and Dave are always a bit shy about saying we are editors as we have no formal training in that regard and there's probably lots of stuff we don't do that we should do or we don't even know about. This was a book where there was a lot of editing because of the structure of it and keeping control of all the aspects of it, because there were lots of sidebars in it like the types of food, the maps, the illustration pages… so it was literally one of those where Kat would come round my house with a print-out of all the pages and we'd sit there with it all on the floor and piece it all together. I feel like I did start to take myself seriously as an editor and around that time got a lot of satisfaction from that.
On a Sunbeam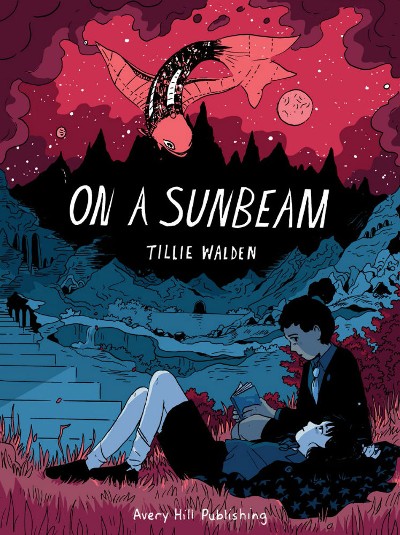 Read our Broken Frontier review here
AO: Now the next one is a brick of a book which I imagine must be a real ordeal to get up to conventions.
MILLER: Yes it's a beast of a book and it definitely caught us out because I hadn't charged anything like enough on shipping on pre-orders. I think I'd charged about £5.00 for US pre-orders and it cost about £12.00. So it was a dark day when I realised that and also when I had to take them to the post office because there were hundreds. Just the sheer physicality of that book it is a problem! In the US they did a paperback version but I thought it looked better as a hardback. You can charger less for a paperback obviously but, in terms of selling, the margins are better on a hardcover anyway. It's not much more in costs to publish in hardcover and you can charge a lot more so from a business point of view we're sticking with a hardcover. But it's really because it looks a lot better as a hardcover.
AO: And I can imagine there's a lot of cracked spines on softcovers by now.
MILLER: Yeah.
AO: Tillie having such a big teen following in terms of LGBTQ readers can really be seen from this one.
MILLER: Yes coincidentally I was talking to Tillie the other day and we were discussing how On a Sunbeam was embraced by the trans community especially. The Elliot character really resonated because there was a scene where one of the characters spoke about how Elliot's pronouns should be respected and I've seen that speech repeated many times on Twitter. So again it's one of those that feels important but also it's a masterpiece and definitely one of the best books to come out in the last 20 years. It's amazing to be associated with and it's one of those books I can give to people who don't read comics and know they will like it.
AO: And lovely it was originally put out as a webcomic so people could connect with those characters and themes if they needed to.
MILLER: Yes I edited the webcomic and helped Tillie to conceive the universe and the plot as she went and she was doing 20-30-50 pages a week that she was sending to edit. The webcomic is much longer I think than the book. And yeah from an editing point that whole experience helping make that comic was really incredible. First time I had done anything serial so it felt very intense. Just seeing it grow and watching those pages come in and helping to come up with a title, naming the ship… one of those things I'll look back on and think "oh yes I did that. That was good." And obviously First Second published the book in the US and normally we don't put out books also published by other publishers. Normally we want projects where we're the people who conceive the project then put it out. We don't buy rights to other books. But this one was an exception because we had an involvement in it and we couldn't imagine letting anyone else in the UK publish it.
What We Don't Talk About
Read our Broken Frontier review here
AO: What We Don't Talk About is the next one, Charlot Kristensen's account of casual racism and privilege. This a book that doesn't just depict an experience, it sort of immerses you in it. Again one of those books you're going to read and feel hugely affected by.
MILLER: Yes a very moving book and powerful. And the artwork is beautiful. The main reason I put it on here as well as all those reasons is that when it came out during the pandemic in June 2020 it really hit the zeitgeist because everyone was at home on their computers and it was the kind of book where if you saw a couple of pages on social media it would really stand out. Probably our most successful batch of books came out at that time – this one, Owen Pomery's Victory Point and Zoe Thorogood's The Impending Blindness of Billie Scott. They smashed our direct sale through our store records, especially Zoe's. There was the Black Lives Matter events going on and it resonated with that. There was also the support small businesses thing going on and we got a benefit from that too. It was kind of amazing and I don't think we'll ever match those kind of sales from our online store.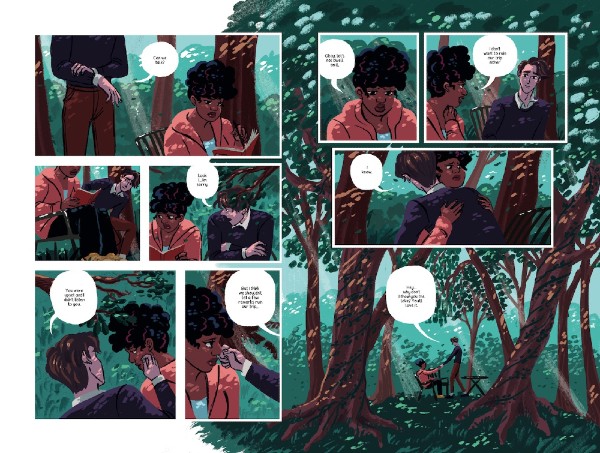 AO: That's fascinating because looking back on that period of time I would have assumed the opposite with everyone worrying about the lack of shows and shops shut.
MILLER: Yes it was good for us but not for retailers or publishers without their own stores who I think must have pivoted to that at the time. But yes if you look at our distributor sales at the time it was only Amazon buying our books. Definitely the good and the bad.
2120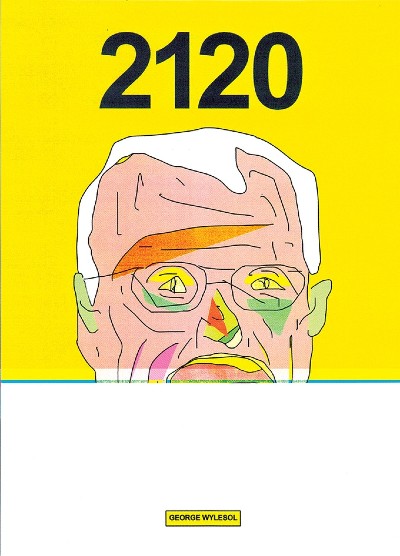 Read our Broken Frontier interview here
AO: This is one I haven't reviewed yet. I haven't read this yet in its physical version. When I read it for an interview with George Wylesol last year I did it from the slightly clumsy route of the PDF which, given its structure, wasn't that easy! This is a very tactile book in the Choose-Your-Own-Adventure style of narrative from someone you have worked with a few times now.
MILLER: I felt like I had to include George for this or Internet Crusader which is an amazing book.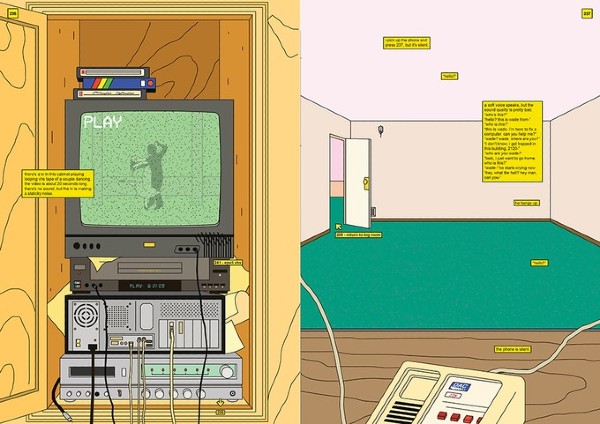 AO: Yes Internet Crusader stands out as one of those titles where you look at it and think this is genuinely something that's never been done in comics before. It's a remarkable book.
MILLER: Yes we're not known for the arty, boundary-pushing kind of books in the same way that things like a DeForge book, or a Koyama book, or Breakdown Press are. George is probably the one where we found him and thought yeah this guy could have been published by Fanta or Breakdown if they spotted him first. His initial stuff wasn't quite like that. It was probably more conventional when we published Ghosts, Etc. though the fact is George does not like drawing human beings so there's definitely a dearth of that. But the new strip he did for that book did go in the boundary-pushing direction. Internet Crusader was a whole different thing. It's like a first-person shoot-'em-up. The story starts outside of that but everything shown is on the computer screen so you follow the story through e-mails, pop-ups, website the protagonists visits and instant messages. It sounds static and boring but it's incredibly compelling and made me laugh more than any other book we've ever done.
And then 2020 which is a Choose-Your-Own-Adventure/Fighting Fantasy type story in the Jackson/Livingstone vein. Another leap forward in terms of ambition and bulk. All these books cost a fortune to print but there's no better way to read his work.
AO: Yes I'm looking forward to re-reading that with a nod to Fighting Fantasy.
MILLER: Yes it's a bit more warped than that and more disturbing.
AO: Yes and without the dice… so that's our ten isn't it?
MILLER: Cool.

AO: Just as a matter of interest for me… and this is probably something of a forgotten book now… the title that really made me think you were moving away from the kind of hand-stapled zine world was Jazz Greenhill's The Festival around maybe 2013 which really did seem like a huge leap in terms of presentation. And a great comic too.
MILLER: Yes and Jazz Greenhill is one of the great lost people in comics. I'm just sorry we couldn't make her more money. I think at the time we only printed 100 copies. Again Jazz did a back-up strip in Metroland. Her work was so, so good. I met her at Comiket on the table next to us. Her worldview and her sense of humour and her linework… such a loss to comics.
AO: Yes so many people from that Comiket era whose work I loved only put out one comic or maybe two and then completely disappeared from the scene forever. Very sad. So… any parting thoughts on 10 years?
MILLER: I always thought we would do a mini-festival on our tenth anniversary and get everyone down and all our creators would have tables and there would be panels. The pandemic lost us too much time and we're trying to think of things to make up for it. Yeah… it's a hobby that got out of control I think.
AO: That's going to be the pull quote for social media. [both laugh]
MILLER: Yeah finally at the end I come out with something you can use. [both laugh]
Visit the Avery Hill Publishing store here
Visit the Avery Hill Publishing store here for digital comics (including out of print work)
Back the Avery Hill Spring 2023 Kickstarter here
Interview by Andy Oliver
Top BF logo by Joe Stone